Third-language media say they're left behind by government relief measures
Off-air after hosting his second radio show of the day, Rajinder Saini says he's working "day and night" to translate critical COVID-19 information into Punjabi for his GTA audience.
Saini founded Parvasi Media Group 18 years ago, which now produces Punjabi radio, TV and print out of Mississauga. But like many so-called "ethnic media" producers in Ontario, he is struggling after ad sales plummeted during the shutdowns.
As the pandemic ravages the entire Canadian media industry, ethnic media groups are pleading for more specific government support, saying they are a source of crucial COVID-19 information for many vulnerable newcomer and elderly communities who aren't comfortable in English or French.
"[Our audience doesn't] watch CTV, CBC. They don't read mainstream newspapers. We are the only source of information for them," said Saini, who asked Ontario Premier Doug Ford about help for ethnic media at a press conference earlier this month. Saini was also one of 10 South Asian newspaper publishers who signed a letter to the Ontario and federal heritage ministers in April, urgently calling for help.
Meanwhile, the federal heritage ministry suggests "Phase 2" of its emergency funding could bring more relief for ethnic media, but has not yet released details.
Ethnic media has joined the mounting COVID-19 casualties among Canadian media. The Chinese-Canadian company Sing Tao Media Group, which is partly owned by Torstar Corp., has stopped publishing its free weekly, the Canada City Post, during the pandemic and laid off 37 people. The Canadian Jewish News ceased publication after 60 years, and the Russian current affairs show Vestnik will likely have to suspend production in June, says producer Igor Malakhov.
COVID-19 hits the 'ones that watch our programs most'
"This virus is hitting the elderly … Those are the ones that watch our [TV] programs most … because we have their mother tongue," said Kiu Rezvanifar, who produces two Canadian-Iranian current affairs programs in Farsi for OMNI and is president of the Canadian Ethnic Media Association. Rezvanifar had to cut his show down to bi-weekly after ads evaporated, he says.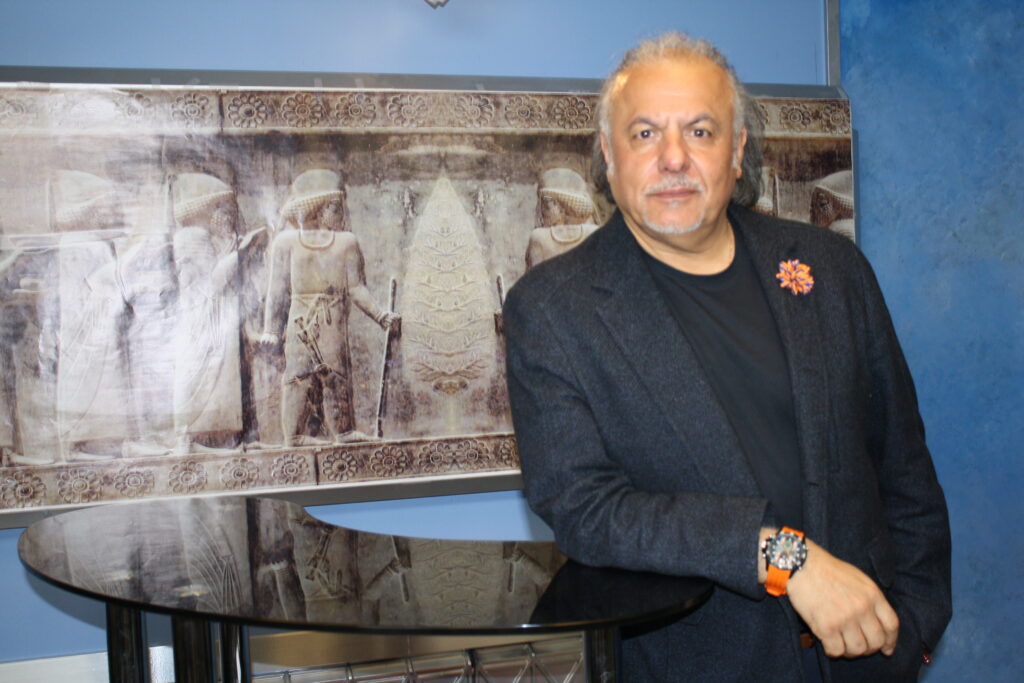 Ethnic media producers say they're providing crucial information for thousands of audience members who can't easily understand the daily COVID-19 press conferences. In Canada, nearly 649,000 people (50 per cent of whom live in Ontario) said they're unable to conduct a conversation in English or French, according to 2016 data from Statistics Canada. Physical distancing restrictions mean many people may have limited access to family or friends who can interpret, the agency says.
Meanwhile, Toronto Public Health data suggests COVID-19 is disproportionately affecting recent immigrants.
During COVID-19, a lot of government translation work is falling to ethnic media and organizations like hers, said Avvy Go, director of the Chinese and Southeast Asian Legal Clinic in Toronto. She notes that many people who need information about financial relief are likely immigrants and refugees who work in precarious jobs.
The federal and Ontario governments, among others, have some COVID-19 resources translated on its website, interpreters are available on a federal coronavirus hotline and Ottawa has multilingual information online about CERB and the Canada Child Benefit. But that financial information is "extremely limited" and not accessible if you don't already speak English, said Go, who didn't know about them until contacted by J-Source. The Canada Revenue Agency says it also has employees who can speak to people in other languages and makes "every effort" to put people in touch with agents who can best help — but Go said she has never been offered that CRA service when trying to interpret on the phone for a client.
Groups lobby for relief packages
The Canadian Ethnic Media Association, which represents about 270 media members including many independent TV program producers, has been actively campaigning for provincial and federal support during the pandemic, saying its members have been largely left out of government ad spending intended to help media during COVID-19 and asking for an emergency ethnic programming relief fund. CEMA chair Madeline Ziniak says she also wants translated information sent directly to ethnic media outlets.
Many ethnic media outlets don't have employees on payroll, which excludes them from qualifying for Canadian journalism labour tax credits or the federal COVID-19 wage-subsidy program. Some producers are dipping into their personal funds, Ziniak said, with others running repeats.
Thomas Saras, president of the National Ethnic Press and Media Council of Canada, says he is lobbying for $10 million to be distributed amongst the council's members, currently negotiating for 60 per cent from the federal government and 40 per cent from Ontario. The NEPMCC includes around 650 publications in 111 languages (some of which benefit from the Canada Periodical Fund and the Local Journalism Initiative) and 150 broadcasters in 60 different languages, according to its website. Many of the member papers stopped publishing and moved online during the pandemic Saras said, when pickup locations like community centres and stores shut down.
Federal and provincial governments have expressed support, saying they recognize that ethnic media is serving an important role in informing their communities.
But some media members are skeptical, pointing to larger support for mainstream and legacy companies.
"Government [pays] really good lip service saying that they want to protect and help," said Anson Wong, general manager of Sing Tao Media Group.
"But when it comes to the dough … we never truly see them put us into any sort of consideration other than [during] election time."
Opposition calls for targeted funding
CEMA hosted a roundtable meeting with Ontario NDP leader Andrea Horwath in May, with members voicing longtime frustration at feeling "ignored" by government and the bureaucratic systems that enable funding. The provincial NDP has called for a COVID-19 "stabilization fund" for ethnic and community media, while Ontario Liberal leader Steven Del Duca has similarly called for an "Ontario independent journalism fund" that would help multicultural news outlets.
"It's a five-alarm fire just for the mainstream media," said Toronto Star reporter Tony Wong, commenting at the meeting. "It's a nine-alarm fire for the Canadian ethnic media."
The Canadian Heritage department is giving $500 million to cultural, heritage and sport organizations during COVID-19, which includes a top-up to recipients of the Canada Periodical Fund, $88.8 million distributed through the Canada Media Fund and $27 million through Telefilm Canada. However, only outlets that already receive money from these programs will benefit from the first phase of funding — leaving out several small ethnic media members.
Canadian Heritage, however, says "Phase 2" of this funding may include some organizations that don't already get this funding, specifically mentioning small broadcasters, third-language producers, local news organizations, magazines and community newspapers.
Rezvanifar worries "Phase 2" will be too late.
"They need the money, they need it now," said Rezvanifar. "The time is ticking, it's a very critical situation … What does "Phase 2" mean?"
The federal government did recently expand eligibility for government-guaranteed loans during the pandemic — a move that will help many outlets, said Saini. But he also noted loans still don't negate their financial need.
Government ads not enough, members say
The federal and Ontario governments are also providing indirect funding through buying COVID-19 awareness ads in several ethnic media outlets, although some say the few thousand dollars isn't enough to sustain them.
Other outlets complain of not benefiting from the ad buys. About 150 of 800 NEPMCC media members are seeing government ads during the pandemic, Saras said. More than 50 people attended a virtual council meeting Monday night, where some expressed frustration at being ignored by the federal government's ad-buying firm, Cosette.
The federal government anticipated the marketing agency would spend $997,000 on ads in various ethnic media sources during March and April. That spending is part of a $30-million ad fund during COVID-19 intended to help the struggling media industry overall. Print ads were translated into Farsi, Italian, Mandarin, Tagalog, Punjabi, Spanish, Arabic, Tamil, Urdu, Korean, Hindi, Inuktitut and Cree, a federal spokesperson said, with radio ads broadcast in Farsi, Italian and Mandarin. They anticipate $123,000 on TV, $399,000 on radio, $449,000 on print, and $26,000 will be spent on digital communications, said André Gagnon, communications adviser with Health Canada and the Public Health Agency of Canada.
"The initial advertising plan included placing ads on every ethnic radio and in every ethnic print paper in Canada," said Gagnon. "However, some outlets had closed their operations because of COVID-19 and we were unable to buy ad space in as many publications as we had planned."
In Ontario, Premier Doug Ford said multicultural media is "especially important" during COVID-19. In a response letter to Del Duca, he said the government is placing $1.8 million in advertising in 15 languages in print; 10 languages on radio; 20 on TV, and 11 on digital and social media.
However, Ziniak says that many independent TV producers don't benefit from government ad money. If ads run during multilingual shows on channels such as OMNI, she says the revenue likely goes to the channel owner, Rogers. She also said many government ethnic media databases are out of date. CEMA is currently updating its own directory.
Saini, who has 15 employees, said getting a few thousand dollars from government ads is "nothing" compared to his expenses.
Readers 'depending on us'
Canada's Immigration Minister, Marco Mendicino, took questions at the NEPMCC meeting Monday, where he touted the importance of ethnic media but gave no specific details on upcoming aid.
Blythe Irwin, sources manager for multilingual media consultancy firm Mirems, says they have been impressed with the quality and scope of Canada's multilingual COVID-19 coverage.
"They're performing the essential job of communicating the complexities of the ongoing crisis," said Irwin. The company monitors more than 800 ethnic media outlets across Canada in more than 30 languages.
Ultimately, ethnic media isn't just delivering rapidly changing COVID information, said Wong of Sing Tao Media Group — it's also telling unreported stories of multicultural communities during COVID-19,
"Our readers [are] depending on us," said Wong.
"[COVID-19 is] just going to show how important ethnic media really is."
Editor's note: This article was updated on May 27 at 8:58 p.m. ET with response from the CRA, to clarify eligibility for Phase 1 of Canadian Heritage funding and to note that some multilingual information about CERB and CCB is made available online by the federal government. It was also updated on May 28 at 9:40 p.m. ET to note data that suggests COVID-19 is disproportionately affecting newcomers to Toronto.
Laura Howells is a journalist and audio producer from St. John's now working in Toronto. Get in touch at laura.r.howells@gmail.com or say hi on Twitter.