Trans voices missing in Canadian newsrooms
This spring, I came out as trans, and made the decision to start hormone replacement therapy. As I waited to get access to testosterone, I spent a lot of time thinking about how medically transitioning would change different aspects of my life — my relationship to my family, the use of public bathrooms, and, of course, work.
I knew I was likely the first openly trans person on staff at Reader's Digest, where I work as an editor. And while I never doubted my managers would be supportive (which, ultimately, they were), I also understood there'd be no roadmap for coming out at the office. Seeking advice and solidarity, I started asking people at industry events whether they knew of any trans journalists working full-time in Canadian media. When that yielded no results, I sent out a tweet asking the same thing. While a number of people shared it or thought back on their employment histories, to this day, I've learned of a paltry six other trans people who are out in Canadian newsrooms.
Of course, a Twitter callout is hardly thorough. But because Canadian media is notoriously bad at self-reporting, information regarding the number of trans media workers who hold full-time positions with print, online or broadcast companies simply has not existed.
The J-Source survey on gender diversity in news media asked for participation from cisgender women, transgender and non-binary journalists. Nine respondents were non-binary, two were trans men, one was a trans woman and three were other genders.

But 400 newsrooms were contacted to share information about their staff. Only five responded.
When we can't point to where trans journalists are, we're left only to note where they aren't.
If you're a cisgender media worker, ask yourself: Have you ever worked alongside a trans colleague? Have you ever assigned a story to an openly trans journalist that wasn't explicitly about trans issues? Can you name more than four or five trans journalists in the entire country who have full-time mainstream media jobs? For many, the answer to all of these questions is "No."
Now, imagine subbing the word "woman" for "trans," and answering the same way. Surely you can see the problem.
A lack of employment opportunities for trans folks isn't unique to our industry. According to Sherbourne Health Center's 2011 Trans Pulse Survey, in Ontario, about 50 per cent of trans folks earn $15,000 or less annually, even though nearly two-thirds of respondents had some post-secondary education. The same survey found only 37 per cent of respondents were employed full-time.

You've probably seen these statistics before — they're often cited in news stories. Canadian media has begun to cover trans issues — including barriers to employment — more frequently. Still, that increased coverage has failed to translate into change in our own newsrooms.

Identifying the problem
As trans issues have made their way into the mainstream in recent years, so have anti-trans columns and think pieces. Particularly in the United Kingdom and the United States, writers and editors with known histories of transphobic writing are getting hired to work for well-respected publications with regularity.
Here in Canada, columnists such as Barbara and Jonathan Kay are known for columns and tweets diminishing trans issues and trans activists. (See Barbara Kay's September 2018 National Post op-ed, which originally ran under the headline "Transwomen deserve respect, but they aren't women.") Trans stories get used as sensational hooks to drum up fear, or as click-bait hate reads to fuel internet outrage.
Meanwhile, the space Canadian media is making for gender non-conforming voices is limited. We are often invited to contribute as freelancers, but seldom offered salaried gigs. And like other underrepresented groups in media — such as people of colour, folks with disabilities — trans writers often get tapped to write highly personal, confessional pieces about their own coming out, transitions or surgeries.
These stories are important: they help to educate, build empathy and awareness, and give voice to GNC communities. But when publications commission a high number of trans memoirs, in the absence of other coverage, it can start to feel like journalistic gawking.
While reporters may choose to have a beat, it's difficult to make a solid wage as a freelancer when you're only getting a chance to write about a single, sparsely covered topic. And freelance life may work for some, but others might want or need the stable income and potential medical benefits full-time work provides.
A lack of trans journalists on staff also means a dearth of opportunity for trans folks to move into senior management positions. The ultimate result is that even the most well-meaning media companies lack the training and protocols necessary to support employees who come out at work, or join their staff.
Neila Karrasik experienced this first hand. The senior producer, digital entertainment at Bell Media had been with the company for nearly eight years when she came out last January. "One of the things that definitely held me back would be employment," she says. "I didn't come out until my 30s when I had my shit together and was gainfully employed."
Karrasik says that her colleagues were genuinely supportive, but sometimes slip-ups did happen. Co-workers who had known her for a long time would occasionally misgender her in meetings, using the wrong name or pronouns out of habit. "It would throw me. I'd go cry in an alleyway after the meeting," she says.

Finding information about whether she had the right to use the bathroom that aligned with her gender identity took some digging, and while the company immediately changed her email address to reflect her chosen name, red tape kept them from changing the picture and name on her security pass for nearly a year. "It's damaging and dysphoric to carry around an ID with your deadname and an old picture," she says. "It was discouraging and it was starting to affect my performance."
To her knowledge, Karassik is the only openly trans woman working in media for the company. Seeing other trans folks, or having clearer protocols would have helped ease her transition at work, she says. Today, she's joined Bell's diversity committee and LGBT committee to try to make herself more visible, and help the company address some of the issues she encountered.
"If I saw someone like me walking down the hallway and living their best life, it might have accelerated the process."

What can newsrooms do?
A lack of blatant transphobia doesn't make a workplace trans inclusive. Media companies need to put their money where their mouths are, and invest financially in their policies and employees.
For many, transitioning is expensive. Companies looking to support trans staff would ideally be willing to help offset some of that cost — by offering benefits plans that include HRT, or negotiating time off during and after gender-affirming surgeries, for example.
Revamping application forms and other paperwork to include gender neutral options and supplying sensitivity training could help to make newsrooms more trans friendly. So could offering gender-neutral bathrooms where possible and adopting clear policies and supports for employees to refer back to in the face of harassment, or when choosing to come out at work.
Newsrooms failing to attract trans contributors and applicants should also put in the work to seek out, and mentor young trans journalists — giving them opportunities to write about LGBTQ+ issues, but also about other beats that suit them. A diverse newsroom makes for stronger, more nuanced coverage. But achieving that multiplicity means committing to treating underrepresented voices as more than pat-on-the-back diversity hires.
"Media is a small, exclusive club," Karassik says. "And it gets even smaller when you consider people who aren't coming from privileged backgrounds."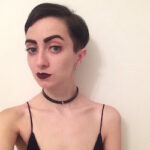 Megan Jones is a senior editor at Reader's Digest. Their work has appeared in publications such as Toronto Life, Xtra and Hazlitt.