UBC researchers lead $2.5-million journalism innovation project
A team of leading scholars and journalists from across Canada and internationally have received a $2.5-million research grant for journalism innovation.
The $2.5 million Partnership Grant from the Social Sciences and Humanities Research Council (SSHRC) will support the development of the Global Journalism Innovation Lab/Lab Mondial d'Innovation en Journalisme, with hubs across Canada and internationally.
The project focuses on explanatory journalism that seeks to provide evidence-based information and perspectives to inform public dialogue and policy action.
The SSHRC grant for journalism innovation in Canada comes against a background of decline in some commercial media and job losses, together with concerns about so-called fake news.
The six-year project is led by University of British Columbia School of Journalism associate professors Alfred Hermida and Mary Lynn Young. It investigates how experimental digital journalism forms can impact civic engagement and policy uptake in partnership with The Conversation Canada and the network of affiliates in Australia, France, the U.K. and the U.S.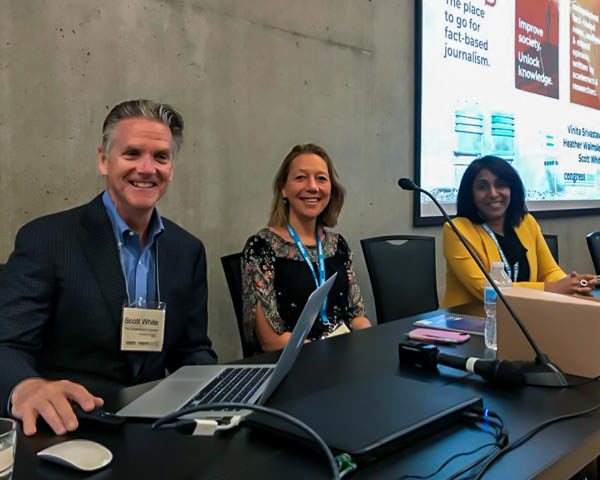 This is the second Partnership Grant in two years for UBC Journalism researchers. Last year, associate professor Peter Klein received a $2.5m SSHRC PG grant for the Hidden Costs of Supply Chains collaboration.
"Highly original"
The SSHRC reviewers called the Global Journalism Innovation Lab "highly original in its approach," adding that "it promises to be influential at a time of critical need."
The ambitious project brings together scholars at five universities, journalists at six journalism organizations and professionals from the innovation sector.
As well as the partnership with the national digital journalism non-profit, The Conversation Canada and four of the global network of eight Conversation outlets, other industry partners include The Canadian Press, and NEXT Canada, a national non-profit focused on innovation and entrepreneurship.
The team includes leading scholars from the School of Journalism, the Institute for Critical Indigenous Studies, and the History Department at the University of British Columbia, the Faculty of Communication & Design at Ryerson University, the University of Ottawa Centre for Law, Technology and Society, the University of Regina and the Digital Media Research Centre at Queensland University of Technology in Australia.
Co-investigators include Candis Callison, Daniel Justice and Heidi Tworek (UBC), Vinita Srivastava (The Conversation Canada), Catherine Schryer, Charles Davis, Jessica Mudry, Gene Allen and Frauke Zeller (Ryerson), Elizabeth Dubois and Florian Martin-Bariteau (UOttawa), Gordon Pennycook (Regina), and Jean Burgess and Axel Bruns (QUT).
"The lab brings together a stellar group of researchers and journalists to study ways to disseminate quality journalism content in English and French and fuel the ability of Canadian journalism to innovate digitally," said Hermida, associate professor and director of the UBC School of Journalism.
"Everyone on this Partnership Grant application was instrumental to its development and success," said Hermida.
The Partnership Grants from SSHRC are intended to help advance knowledge and understanding on critical issues of intellectual, social, economic and cultural significance.
This story originally appeared on the UBC School of Journalism website and appears here with its permission.