Understanding trauma behind the lens
By Julia Lloyd and Angela McLean
Photo and video journalists: Are you OK?
That was the question posed by Bevan Guy, a high risk training expert with Tundra International, at a talk hosted by the Ryerson Review of Journalism on Nov. 21.
Guy is not a journalist, but he is no stranger to challenging assignments. Formerly a captain in the New Zealand Army, Guy now works with media companies to help train journalists who will be reporting in complex or hostile environments.
He defined complex environments as ones that involve increased tension and obstacles. This can include lack of access to key sources, threats of violence, limits on free speech and exposure to life-threatening incidents.
Photo and video journalists who visually capture horrifying and shocking scenes are among the most susceptible to emotional trauma, according to Guy.
"The job is about getting the image," he said. "I (look) into the viewfinder and see, 'Is there this little black and white picture?' and I'm just viewing and absorbing but I'm doing my job. But then I take that away, we move onto the next story, the next situation and we finish the day's filming, we move back to the safe house or the hotel or wherever we happen to be staying and I (really) start to process that."
What comes next can be very distressing for some journalists, Guy said.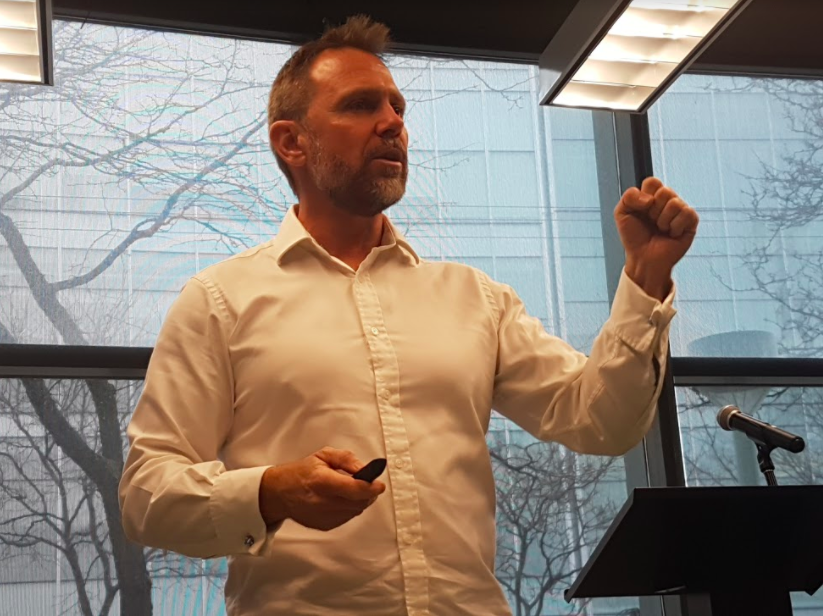 By choice, by career and by trade, journalists choose to follow stories that could be quite disturbing. Emotional trauma could come as a result, but it is often ignored.
A 2009 American study surveyed 875 photojournalists and 98 per cent reported they had been exposed to events that mental health professionals would deem traumatic.
Close to six per cent of the photojournalists surveyed met the criteria for a diagnosis of post-traumatic stress disorder.
"It's a little unsettling hearing those statistics," said Alexis Kuskevics, the Ryerson Review of Journalism's conference editor. "(However), as dangerous as the job is, it's still necessary. The impact journalism has on society is what keeps journalists going."
Kuskevics has been researching the emotional, physical and social consequences of trauma reporting on journalists.
"Journalism students tend to believe that, when entering a war zone, the danger is physical and immediate. They don't always think of the emotional and social impact that reporters experience when covering a traumatic story," Kuskevics said. "It's important to remember that emotional trauma doesn't only exist in war zones. Journalists can be affected through the coverage of court trials, car accidents, terrorist attacks and (other) events that could potentially impact them."
Kuskevics' research has led to conversations with many industry experts about the impact these types of assignments can have on journalists.
One of these conversations was with Canadian journalist Paul Hunter, who has "covered quite a spectrum of traumatic events" throughout his career. Hunter has spent the past two decades working at the CBC, mostly as a foreign correspondent.
"(Hunter) said that the first story that emotionally impacted him was when he covered the kidnapping, sexual assault and murder trial of Paul Bernardo in 1995. He had to listen to the tapes of Bernardo's victims repeatedly, and almost always in the presence of the family members," Kuskevics said.
Sometimes that load is heavier than normal.
Consider the emotional weight hanging on those who captured scenes from 9/11.
"I found the images of trapped individuals jumping or falling from the World Trade Centre on 9/11 more powerful than the footage of buildings collapsing in their entirety," said Jeremy Smith, a partner at Tundra International.
Smith added that photos and videos "that are able to personalize wider traumatic events in a relatable way" have the most impact on the audience as well as the people behind the camera.
There's the cliché saying that a photo is worth a thousand words. For photo and video journalists who have captured these visuals, they may find it very difficult to come to terms with what they've seen. It can leave an impact in numerous ways, including through permanent triggers.
"Triggers can sometimes be apparently innocuous like a particular smell or seeing a person that looks a bit like someone they (met)," Smith said.
There is some stigma around journalists talking openly about their experiences and triggers.
According to Guy, encouraging communication is key in supporting these journalists when they return home.
"I think we need to be a lot more overt and purposeful about managing ourselves personally and (within) teams," he said. "Just a check-in, a 'hey, are you OK?' can make a difference."
Blake Fitzpatrick, the chair of Ryerson's School of Image Arts, suggested newsrooms should "encourage journalists to take their mental health seriously. They should allow for mental health concerns to be part of newsroom culture and they should support their employees with benefit plans that address mental health."
Kuskevics added that one of the traits she admires most about journalists is how "they face the same risks as soldiers yet without a gun or a protective vest.
"It's the courage that gets them to a conflict zone, but the services and programs that can help keep them alive."