Welcome to Facts & Frictions Fall 2022
Facts & Frictions has a mandate to promote research and discourse on points of friction in the journalistic field. This issue's opening article—Epic Snowmen, Expert Takes, and Audience Orientation: How Journalistic Roles are Performed in Canadian Media—well serves that aim. A team of eight researchers from five post-secondary institutions parsed through 3,700 Canadian news articles, then held their findings to the mirror of journalists' perceptions of their work, garnered through a survey of self-reported roles and values. Their research provides an empirical counterpoint to how journalists think they fulfill their social role versus actual stories produced. The result is a sobering reflection that calls on us to close the gap between aspiration and actuality in our discipline.
Another Facts & Frictions mandate is to provide equal publishing opportunities in Canada's two official languages. In past issues, this has included articles published in either French or English, with bilingual abstracts. Epic Snowmen is our first complete article translation, courtesy of its authors. The article appears in French under the title Bonhommes de neige « épiques », sources expertes et rôles axés sur le public : Comment les rôles journalistiques se manifestent dans les médias canadiens. We thank the authors for the extra time and attention it took to create a translation, and to then tackle the complexities of integrating revisions and proof-reading corrections across two versions.
The next article, Journalists' Social Identity: The Case of Two Calgary Newspapers, examines points of friction at a personal level. Anyone who has worked in a competitive news market is aware that journalists can form strong social identities around their 'home team,' and equally strong opinions about the teams they compete against. Author James Ian Tennant applies Social Identity Theory to explore the workplace culture of two distinct Calgary newsrooms that were pulled together via a corporate merger. Through in depth interviews he found that, some five years post-merger, journalists' self-identity remained unsettled and fluid, with unresolved ethical questions around how they identify themselves to interviewees.
Facts & Frictions seeks to confront changing norms and evolving practices, particularly in the area of journalism pedagogy. To this end, author Leslie Salgado Arzuaga examines how journalism educators are responding to the fast-moving integration of artificial intelligence into journalistic practice. Her research uncovered a remarkable lack of Canadian journalism courses and training workshops that address AI in journalism. Turning to offerings outside Canada, Salgado employed the experiential study method of self-training, by taking online journalism AI  courses and attending conferences where AI was discussed and workshopped. Her article, From the Classroom to the Newsroom: A Critical Route to Introduce AI in Journalism, charts a path forward for Canadian journalism educators to catch up with the world of AI, not only as a practice, but also as a theoretical and ethical challenge that requires unpacking by instructors and students alike.
Our issue finishes off with one of the most fraught issues of recent years: COVID-19 coverage. Adrian Ma reviews Nora Loreto's Spin Doctors: How Media and Politicians Misdiagnosed the COVID-19 Pandemic, a work that examines the first year of pandemic reportage. The review is available in both podcast and print formats, in concert with Facts & Frictions' goal to evolve scholarly publishing by providing academic perspectives in multimedia formats.
We hope these works inspire further explorations into the discipline and profession of journalism.
Facts and Frictions is published by J-Schools Canada, Canada's national association for post-secondary journalism research and education. All content is open access and available via J-Source.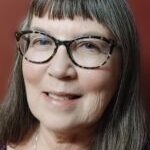 Patricia W. Elliott is editor-in-chief of Facts & Frictions / Faits et frictions and associate professor of journalism at First Nations University of Canada and the University of Regina.