When the founder of the Proud Boys came for me
Warning: this piece contains mention of harassment, death threats, threats of sexual assault and stalking
Like most women, I'm no stranger to experiencing daily sexual harassment, whether it happens while I'm walking down a street or if I've been felt up in a public space like a streetcar. My signature response in those kinds of situations is to stand my ground and react in anger.
But I'm writing now about a different kind of experience that challenged my usual tenacity to call out BS when I see or experience it. It happened three years ago when the founder of Proud Boys, Gavin McInnes, implied to his drove of angry white male followers that I was a target.
Proud Boys are an alt-right brigade of mostly white men that have made a name for themselves as violent aggressors opposing the rights of immigrants, ethnic minorities, women and LGBTQ2S+ community members.
Canada recently declared them a terrorist organization in the wake of the Proud Boys' involvement in the U.S. Capitol siege, where insurrectionists stormed the building in a riot that resulted in five deaths and over 138 injuries amongst police forces. Now, the hate group's name is everywhere. But they were a humbler enterprise in 2018 when they came for me in an attempt to destroy my life.
As a mouthy woman journalist who specializes in hard-line op-eds, and as an Arab, I'm no stranger to the abusive trolling that permeates online spaces. An essay I wrote in 2017 for Vice with a headline that screamed Women Don't Owe You Shit still garners a trove of hateful messages to this day.
I'm far from alone. The Columbia Journalism Review published a special report in 2018 on the cost of "reporting while female," documenting the very real (and very obscene) forms of verbal and written abuse women in journalism face every day.
MS Magazine reported that in just the first half of 2020, the Coalition For Women In Journalism documented 25 major organized trolled campaigns targeting women journalists — a notable rise in comparison to 17 cases in the respective period the year prior. Two-thirds of women in media polled by Reuters reported threats of rape, abuse and harassment by men.
It is not lost on me that McInnes is one of the co-founders of Vice, an outlet that published my essays for years, so it seemed plausible that our paths would collide at some point. It was also because of that tenuous relationship and his escalating bile, online and off, that I blocked him on Twitter a few years prior to this incident.
Perhaps writing for the very rag he founded prepared me for his virtual attack. It was in the early hours after the shooting in Toronto's Greektown in 2018 that left two people dead and 13 injured.
At that time, our media was saturated with Donald Trump soundbites and talking points. "We're gonna build a wall and get Mexico to pay for it" and "We're putting a ban on Muslims entering the country until we can figure out what's going on" were two ubiquitous phrases making rounds through the news cycles.
I decided to spin that narrative on its head. At the time the shooter's identity was unknown. In the wake of the violence on the Danforth, and amidst the conversation around the prevalence of white male mass shooters, I satirized Trump's words in a tweet. "We need to put a ban on white men until we can figure out what's going on," I said. "We're going to build a wall around them and get Gavin McInnes to pay for it."
I knew I might ruffle some feathers; in fact, I took pride in that. A few months earlier, in April, a man calling himself an "incel" (and whom I refuse to name here) got behind the wheel of a white rented van and plowed down innocent pedestrians on Yonge Street in Toronto, killing ten and injuring 16.
So I posted a tweet meant to criticize the victim narrative advanced by the misogynist internet subculture, now making its way into mainstream consciousness and channels. When an incel army flooded my mentions with sexist, slut-shaming tactics, I trolled them right back, responding with memes designed to mock any troll within striking distance.
It's a short walk between incel and Proud Boy (and probably a lot of crossover too), so this time, I loaded up my memes and waited.
But then, a screencap of my tweet made its way to McInnes, who in turn shared it with his followers (McInnes has since been banned from Twitter). His response at first glance might appear benign. But it didn't matter what he said; he made sure to include my Twitter handle so his followers could easily find their way to me.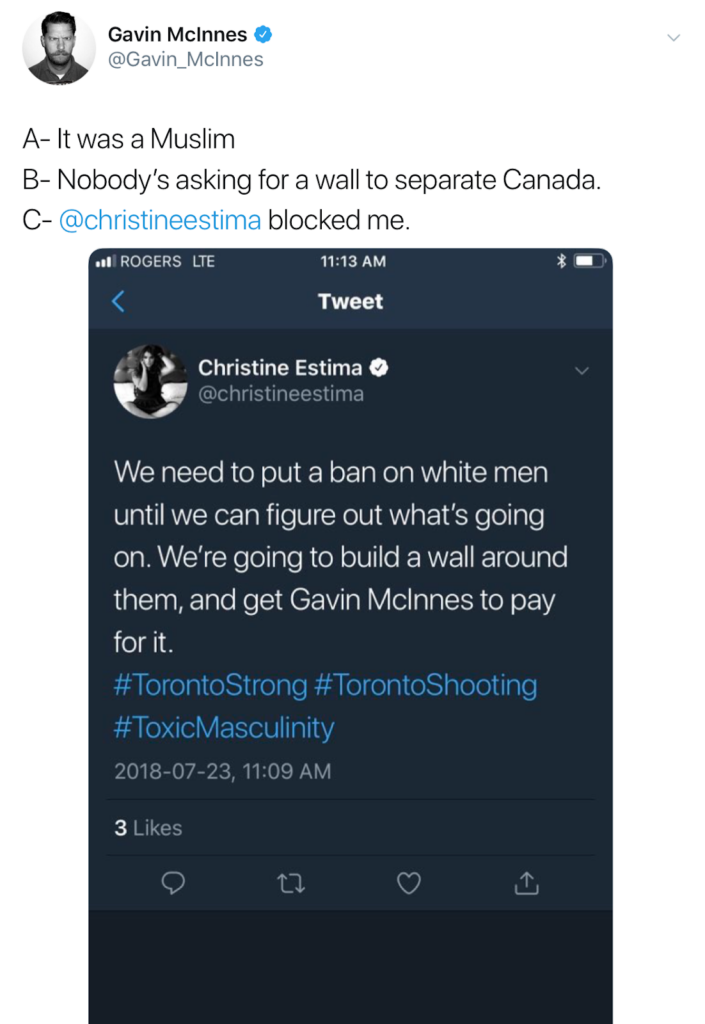 Threats of violence poured in across all social media avenues. They came in quickly on Facebook, and through my public email address attached to my online writer's portfolio. Again, nothing I hadn't endured before. So I just responded with memes and rolled my eyes.
But this time would prove much different from my previous incel lampoon earlier that year. Three alt-right neo-Nazi websites took it upon themselves to write hastily patched up "articles" on me, identifying me to an even larger audience. At present, two of those websites appear to no longer exist, but one remains.
Then, my literary agent emailed me, letting me know that the agency was receiving hate mail for representing me, and trolls were encouraging the agency to drop me as a client. It was at this point I realized I was being doxxed.
It's a timeline of events many online women are familiar with.
For freelance writer Nora Loreto, an awfully similar episode played out after she sent out a four-part Twitter thread to her over 24,000 followers in 2018, after $4 million in donations were raised for the victims of the devastating the Humboldt Broncos bus crash. "I'm trying to not get cynical about what is a totally devastating tragedy but the maleness, the youthfulness and the whiteness of the victims are, of course, playing a significant role," she tweeted.
"A guy messaged me to warn me that my tweet would go viral," she recalled to me over email. "It was Monday night – the tweet had not gone viral and I was surprised by his threat. Sure enough, Tuesday morning, my phone exploded. I received something like a message every eight seconds for five days on every platform. My phone rang off the hook and with all the messages was basically rendered useless – it couldn't operate with all the notifications."
Saying that she "received hundreds of very credible death threats," the worst of the backlash was ignited after a column in the Toronto Sun, in which editor Adrienne Batra accused Loreto of "smearing" the crash victims, "really set off the hate and the tweets indeed went viral," said Loreto.
"Sarah Palin weighed in. Jason Kenney weighed in … Guys I play soccer with were genuinely afraid I would be hurt and insisted on walking me home after games. Maclean's publicly denounced me and blacklisted me, something that I remain bitterly angry about and still expect them to apologize for some day." (Loreto was published by Maclean's in April, for the first time since her 2018 tweets.) "I heard that folks at the Globe got calls non-stop about me for two days because they had published me a few weeks earlier."
"I received hundreds of very credible death threats and so that weighs on you a bit, but mostly I was angry that a comment that was true could be turned into something so (big) that it put my life on hold for like two weeks. And even worse, there was no one getting my back with any real power in media. I got a lot of nice private messages from people I respect but there was nothing that tried to analyze what happened outside of Briarpatch, Rabble and a friend's Huffington Post blog. That was the most enraging at all. It showed that the tactics work."
Loreto, whose book Taking Back the Fight was published in the fall and has been independently reporting daily COVID-19 death numbers since the beginning of the pandemic, said that she's been invited to discuss her findings maybe 15 times, as compared to the typical dozens or hundreds for researchers doing similar work.
While Loreto said the shutout predates Humboldt, that's what people cite to her as the main reason she's "blacklisted" from political media in Canada.
"Some women have it way worse than others – but knowing that what I went through was intended to push me into taking my own life (literally that's the kind of comment I received probably 1000 times), these tactics work enough for them to continue. And The Media (the mainstream media) is complicit."
It's a scene that also unfolded for Julie Lalonde, an Ottawa-based public educator and author, who tweeted to her over 30,000 followers a reminder for everyone mourning basketball player Kobe Bryant's death that he "was a rapist."
"I got 450,000 death threats, hundreds of emails, I had to shut down my Twitter and Instagram accounts," she told me over email. "I was doxxed, sent threatening voicemails, the works. I had to call the police because my name is quite common and every other Julie Lalonde in the city was being targeted. The police deemed the threats credible and told me to flee my home. It was a very scary time."
Lalonde says the fallout from that targeted harassment has been immense. "It has completely changed my life," she said. "I speak in public for a living which means I am constantly opening myself up to opportunities for people to act on the things they tweet at me. I can't speak in public without a security detail. I've lost out on employment opportunities because organizations are sometimes unwilling to take on the extra work that comes from hiring a 'controversial speaker.'"
Having followed both Lalonde and Loreto on social media for years, I saw their death threats pour in, but until then, I had mostly been spared a similar fate.
Then the most obscene and inhuman threat showed up in my Twitter mentions. I don't know if you've ever had the experience of someone wishing you were "raped by 20 white men holding AR15s," but I can assure you, it's not something you soon forget. It also made me hit the pause button, because as any woman will tell you, online threats can very easily translate into actual, physical violence.

Simone Paget, a nationally syndicated sex and relationship columnist for the Toronto Sun, was faced with a similar threat in 2010. "A male reader emailed me out of the blue to tell me he'd seen me walking around my Toronto neighborhood," she recounted in an email, "and that next time he saw me, he'd ask me to 'go have sex with him somewhere.' They contacted me from an anonymous email so I had no idea who they were. For the remainder of the time I lived in that neighborhood, I couldn't shake the feeling that I was being hunted and watched … and very unsafe."
More and more data suggests that online threats can't be contained by virtual walls. Twenty per cent of women in media experienced physical violence linked to online threats, according to a 2020 survey conducted by the International Center of Journalists and UNESCO.
In its coverage of the study, Deutsche Welle also cited a 2017 report by the Committee to Protect Journalists, which found that journalists who were murdered had reported receiving online threats before they were killed in 40 per cent of cases. Before 2017, Open Canada reported that UNESCO found 38 female journalists were murdered worldwide between 2012 and 2016; 21 were murdered between 2008-2012.
The numbers don't lie, and they are going up.
Women of colour in media face a unique brand of online hate. As a Middle Eastern woman of mixed ethnicity, I have frequently found that online attacks reliably come with racist remarks on my features or stereotypes about my cultural heritage.
Poynter recently documented the abuse and hatred leveled at a Black woman journalist at the Virginian-Pilot, and the mental health impacts that followed. The piece, in fact, was published with the trade publication in a decision the Pilot's editor-in-chief said was made to get the story out there but mitigate the inevitable toxic backlash if published in their own paper.
In Canada, newsroom culpability for hate and targeted harassment — a conversation that's barely started — may be about to be put to the test. Former Global News host Supriya Dwivedi filed a Canadian Human Rights Commission complaint last year, "alleging that the company's refusal to enforce journalistic standards on talk radio resulted in her receiving an increase in racist comments and violent threats," reported Vice News's Manisha Krishnan.
To date, there has been a vacuum of organized responses from (largely male-run) newsrooms in the United States. As Vanity Fair recently reported, the majority of largest media and news companies are not doing enough to support their women reporters in the face of misogynistic and racist attacks "in part because a lot of news organizations believe the best way to deal with online abuse is to ignore it; journalists are coached to do the same."
Speaking with a New York Times reporter who wished to remain anonymous, Vanity Fair concluded that most women see the lack of leadership on this issue as akin to being "hung out to dry."
In the absence of measures by newsroom management, who have largely yet to take responsibility for what is a pervasive workplace safety issue, women journalists are essentially expected to handle abuse and threats on their own. Until that happens, whether it's shutting off, muting or fighting back, whichever way women choose to manage these attacks on their own is the right thing to do.
As for me, I declined to just ignore it.
The majority of Proud Boys in my mentions kept predicting that I would delete my tweet, or lock up my account, or even delete my online presence altogether. That is a tactic that, as noted by other women journalists and public figures I spoke with, has often worked to reduce exposure and gain some peace of mind again.
I stand with them and remind everyone that any way in which a woman chooses to protect herself online is valid, and no one way is better or worse than the other.
I refused to go that route. It would be easy to delete my tweet and make my account private, but for me, that would be contributing to my own silencing. To incels and Proud Boys, women do not deserve a voice; we should be seen and not heard. To be even more precise, considering their sexually graphic threats, we should also be obscene and not heard.
I wasn't about to help them in that endeavour.
I can go as far to concede that maybe what I tweeted was a bit gauche, or poorly timed. But I will never say it justified a threat of rape and physical violence. No woman should be terrorized for *checks notes* writing words on the internet.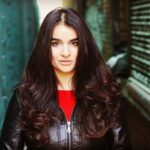 Christine Estima has written for The New York Times, The Walrus, New York Daily News, The Globe and Mail, The Toronto Star, VICE, Bitch Magazine, Maisonneuve Magazine, and many more. She was a nominated finalist for the 2018 Allan Slaight Prize for Journalism. Follow her on Twitter @ChristineEstima
(Photo by Graham Isador)