Why I hope we can ring in the next generation of bharatanatyam dancers with a new era of arts journalism
I always wanted to learn ballet, but instead, when I turned seven, my parents — newly immigrated from India — enrolled me in bharatanatyam classes, one of the oldest forms of Indian classical dance.
As the girls around me, in Ajax, Ont., learned to leap with their toes pointed, I learned to stomp my feet to different rhythms. They strapped pretty light pink pointe shoes to their feet, and I tied heavy bells to my ankles, as is the practice in bharatanatyam.
They'd proudly announce that they had dance class every Wednesday night, while I remained silent. I knew no one would say anything about bharatanatyam, and that no one would care. And so, like a lot of the girls in my dance class, I too, wanted to fit in; I wished I was learning ballet instead.
My sense of isolation was cemented on television where pretty girls in tutus performed The Nutcracker during Christmas time. The only time I saw any Indian classical dance in popular cinema or TV was when the token brown boy in sitcoms, usually named Baljeet or Sanjay, would perform a terrible, tacky dance number masking as a classical Indian dance form as he spoke through a thick, fake Indian accent.
By the time I turned 16 my interest in journalism began and I was reading articles about the struggles ballerinas face; the pressure of perfection and the commonality of eating disorders in their lives. I realized I had never read anything about bharatanatyam dancers or the challenges they faced.
But those struggles were real, yet invisible; in my dance school, there are currently about 150 girls studying bharatanatyam experiencing challenges unique to the form, with no representation or space for them in major publications across Canada.
As it turns out, my sense of isolation and shame for bharatanatyam connects directly with the problem of staffing in newsrooms across Canada. Systemic racism in journalism can be seen through who reports on stories and how those stories are presented.
It also means that specific communities, in particular those most historically like Indigenous and Black communities, aren't at the assignment table, and aren't participating with enough power at the assignment table.
Arts criticism tends to focus heavily on mainstream, white culture. "If the lived experience and perspective of a critic vastly differs from the subject of a film, it is likely that critics will miss, or fail to understand, crucial references or conclusions," said arts journalist Aparita Bhandari in the 2020 issue of the [ ] Review of Journalism. The perspectives of racialized and LGBTQ2S+ journalists are essential in understanding underrepresented viewpoints in the arts because their unique life experiences and cultural knowledge would not only enhance the story, but it would also ensure that a wider range of stories are commissioned. Meanwhile, dedicated arts writers, beats and sections are rapidly disappearing from the landscape.
Those who are racialized and LGBTQ2S+ have faced numerous barriers to getting their stories published, including editors' concerns about audience interest and the challenge of being the token racialized person, battling stereotypes and the pressure to be on call for any story or situation involving any issue impacting racialized communities.
Niche publications have historically tried to carve out space for underrepresented stories but as more racialized and LGBTQ2S+ journalists enter the profession, journalists are coming together to force change in various ways.
A good example of this kind of action is the recent RISE conference in May, hosted by the Canadian Association of Black Journalists and Canadian Journalists of Colour, which presented sessions only by racialized journalists and educators.
Evidence of the newsroom staffing gap has been difficult to document. But in 2019, Ryerson University journalism professors Asmaa Malik and Sonya Fatah (J-Source's editor-in-chief) published a study to show that over the past two decades, as Canada's demographics have shifted, news organizations have failed to reflect the country's increasing diversity.
In their study on opinion columnists and the real estate they occupy in major Canadian news organizations over 21 years, they looked at the Globe and Mail, the Toronto Star and the National Post and noted that as the proportion of white people in Canada's population decreased, the representation of white columnists increased.
White columnists were overrepresented by four to 11 per cent throughout the 21 years. Throughout the duration of the study, there were no regular Indigenous-identifying columnists, only three Black men and no Black women journalists who met their criteria for columnists.
In fact, South Asians were most adequately represented according to the study. "I think we have to start by acknowledging that [South Asian] voices are still present in a way that Indigenous and Black voices are not," said Malik.
Canadian media fails to reflect the true bigger picture of Canada and its diversity. It's not just my specific dance style and perspectives that's being omitted from the eyes of Canadian media.
"For more than two decades, the voices that these publications chose to give prominence did not reflect the perspectives and interests of a large segment of Canada's population," Fatah and Malik said in their article.
There appears to be a concern that some material is not suitable or relevant to audiences in Canada. Arti Patel, now senior producer, entertainment and education at CBC News, recalled having pitches based on her community shut down at a former job because the editor doubted there was a real audience for that content.
"I found really quickly that lifestyle specifically was just very white, and it's everything from food to relationships and even weddings. When you think about weddings in a media space, it's like white dress and a white gown," Patel said. "That sort of made me want to write a lot more about South Asians."
Harini Mansa has been a radio host for a Telugu program on CMR 101.3 FM in Toronto, and although she worked there for a whole year from 2018 to 2019, her parents were skeptical of her desire to pursue something creative.
"I had a hard time convincing them that this is something I wanted to try out," she said. "I like talking about my culture on the radio, but it was hard to sort of tell them because this isn't something that they were used to seeing."
She also said that the platform she was given allowed her to speak about issues that were more relevant to her. "Things even as simple as food weren't mentioned on mainstream media, and so when I spoke about it on my show, I felt more at home, and I hope my audience felt that way too."
At school, Mansa remembered how people would assume she spoke Hindi when in reality, Telugu was her native language.
Patel had a similar experience in which she was called on as a "South Asian" in a newsroom to discuss issues which she did not feel she was qualified to discuss. Even with Malik, colleagues would ask her about Hindu holidays, about which she had little to no knowledge. After 9/11, Malik recalls that she was called on for expert opinions as well.
"People can fall back on generalizations in the newsroom, like presuming your religion, thinking that Muslim means you're South Asian. I think as with most people who are from different racial backgrounds, there is this presumption, that you know more than you do. You get called on to be an expert about [subjects] that aren't directly things that I do all the time that are a part of my everyday life," Malik said.
A growing recognition that their individual experiences were mapping a larger problem, Patel, Nikkjit Gill and Roohi Sahajpal created Didihood, a collective of South Asian women in creative industries across Canada spanning media to music, film, visual arts and aimed at strategically building a professional support community. "I think there's very specific experiences that a lot of BIPOC people go through with their families or you know traditions or, you know, even explaining something like journalism to your household, or working for free, it may not be conversations that always happen," said Patel, "so we created Didihood."
Before the creation of organized networks like Didihood, quite a few publications filled the gap and highlighted voices from communities absent from mainstream media in Canada, as reported in the [ ]RJ.
The 40-year-old newspaper Share covers stories of interest to Black and Caribbean readers in the GTA. An award-winning digital magazine, ByBlacks.com, has been covering topics from Black Canadian history to local business leadership since 2013.
Established in the early 1990s, Rungh, was one of the first publications that gave South Asians in Canada a space to express themselves. Even now, there are workshops and conferences surrounding the topic of accurately reporting race and culture, like the RISE conference, and organizations like the Canadian Journalists of Colour and the Canadian Association of Black Journalists providing a way to connect and learn from an empowered community.
And these kinds of changes could help encourage the inclusion of a range of other art forms from communities which don't usually receive media attention.
Where does all this structural understanding leave me in my complex relationship with bharatanatyam? While I can always blame my lack of enthusiasm for the Indian classical dance on the absence of diversity in the newsroom, I also blame myself.
Maybe by talking about it more with my peers, the next generation of bharatanatyam dancers would not have to experience the same indignities, the same isolation and shame.
I graduated from my dance school with a four-hour solo-performance in 2019, called an Arangetram. It was a big achievement, but I honestly had trouble talking about it. These representational issues in media and the way lack of inclusion is reflected in content, as well as an understanding of audiences, ultimately impacted my — and all my peers' — appreciation for an artform to which I have dedicated years of learning.
I learned to love bharatanatyam when I realized it's a part of who I am. If there had been proper representation for people like me earlier, I would have come to this conclusion earlier.
But I'm here now and as a member of this generation of journalists, I can see we have so many perspectives to strengthen journalism today, and my understanding why I didn't see myself or bharatanatayam represented in the news has empowered me to change that for the next generation of journalism consumers, including someone like me, who, with bells strapped to their ankles, is stomping to ragas on the dance floor.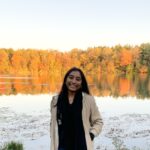 Prapti Bamaniya is a journalism student based in Toronto. You can find her work in The Eyeopener and Her Campus.