Will nonprofit journalism rules now on the books help news organizations in Canada?
Canadian news organizations looking to set up as nonprofits that issue tax receipts to donors must be realistic about whether there is enough local support to sustain their operations, says the editor who oversaw a Utah daily's transition to a community-funded nonprofit.
The Salt Lake Tribune, which in 2019 became the first major daily U.S. newspaper to make the move, decided on the shift after it became clear that advertising revenue would no longer be enough to keep the doors open, said executive editor Jennifer Napier-Pearce. Since re-launching as a nonprofit, the publication has raised nearly USD$1.5 million from donations and has managed to weather COVID-19 without any layoffs.
"Institutions need to look at their community in a real honest way and survey the landscape. Is there enough philanthropy to support your mission?" Napier-Pearce said.
Changes in Canadian tax rules finalized this spring mean that for the first time, qualifying news organizations can issue receipts to donors for income tax purposes and receive direct grants from charitable foundations. Under the new rules, the media outlet must operate as a nonprofit, be designated as a qualified Canadian journalism organization (QCJO), and then be recognized by the Canada Revenue Agency as a qualified donee, or in CRA terms, a registered journalism organization (RJO).
"There is going to be a learning curve for everybody involved," said April Lindgren, principal investigator for the Local News Research Project and the Velma Rogers Research Chair at Ryerson University's School of Journalism. "Apart from all the red tape, both funders and news organizations will have to think through their goals and their relationship with each other.
"What I hope everyone will realize is that charitable support for local journalism isn't as much about saving journalism as it is about acknowledging that news is part of the critical social infrastructure of communities. The pandemic has made this so clear — news about what is happening locally is in high demand as people look to find out about local infection rates and what is happening in their hospitals and long-term care homes."
Some Canadian newsrooms are already navigating that curve, including The Tyee, a Vancouver-based online news magazine, that is in the process of transitioning to a nonprofit model.
The shift, says publisher Jeanette Ageson, has not been without challenges. Among other things, she said, "it's time consuming. With a private corporation, there's not much that you need to do to run a company, but with a nonprofit structure you have to get people who are willing to sit on a volunteer board of directors and they'll have fiduciary responsibilities."
Ageson said that operating as a nonprofit is about transparency.
"If we just say we are nonprofit, it's assumed or it's explained by our very structure that all the money we get goes toward journalism," she said, noting that as a private company The Tyee has never broken even and has long relied upon financial support from readers and its owners.
A nonprofit organization in Canada is income tax exempt and must be operated solely for social welfare, civic improvement, recreation and any other purpose except for making a profit. It cannot use its income to personally benefit its members and it cannot issue receipts to donors for income tax purposes unless it is registered as a charitable organization by the Canada Revenue Agency. Once registered, a charity pays no income tax and is able to issue tax receipts to donors that are used for non-refundable tax credits and deductions.
The Tyee, said Ageson, hopes to eventually be approved by the CRA as a qualified donee so it can issue receipts for income tax purposes. As of right now, however, it does not meet the CRA's qualified donee rule that says a news organization cannot rely on any one source for more than 20 percent of its funding.
Montreal's French-language digital daily newspaper La Presse cleared the first hurdle in becoming a qualified donee back in 2018 when it transitioned to a nonprofit structure. The newspaper subsequently raised more than $3 million in a 2019 fundraising campaign. Despite the financial hardships created by COVID-19, president Pierre Elliott Levasseur says the paper is on track to surpass last year's fundraising total in 2020.
"Despite the fact that we still cannot issue tax receipts, many readers responded to our fundraising campaign," Levasseur said. "Their solidarity touches us greatly."
La Presse is now seeking status as a qualified Canadian journalism organization (QCJO, a process that requires an independent advisory board appointed by the CRA to rule on whether the media outlet produces original news content and follows journalistic processes and principles. Once a news organization is designated a QCJO, it can apply for qualified donee status as a registered journalism organization (RJO). At that point, it becomes tax exempt, can issue donation receipts for gifts it receives, and can be supported by foundations and other registered charities.
Pamela Tourigny, a media relations officer at the CRA, said that so far, only two applications for qualified donee status have been received. Information on how long it will take to get a final ruling on the two cases is not available, she said, because of the many variables involved.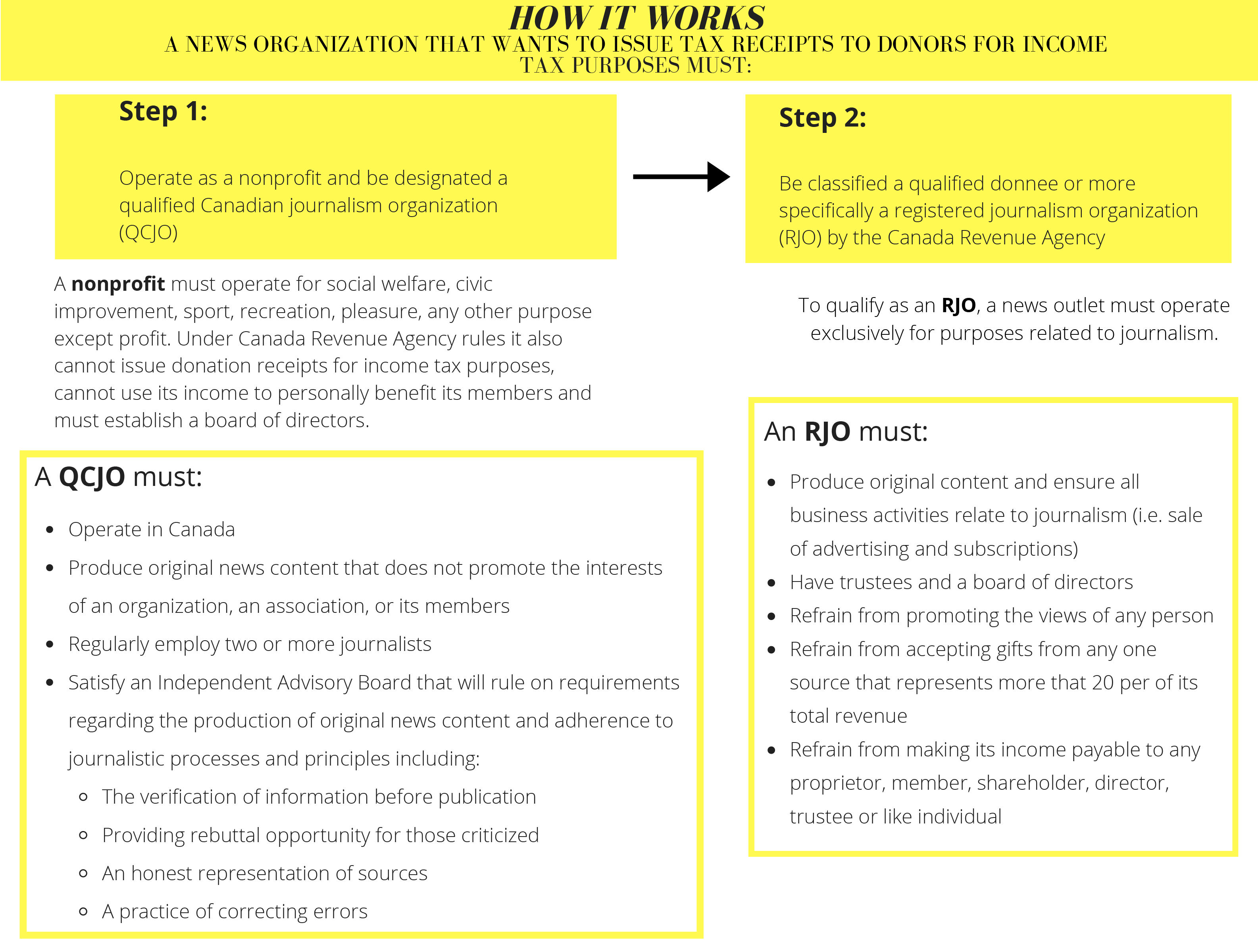 Meanwhile, south of the border…
Canada is late to the media-as-charities game compared to the United States. The U.S.-based Institute for Nonprofit News (INN) has more than 250 members and, except for a handful of organizations that are university-based or in Canada, they all have charitable status. The INN, which supports independent nonprofit news organizations, includes among its members ProPublica, known for its hard-hitting investigative journalism, the Texas Tribune, which reports on statewide issues, and The Beacon, an online local news outlet in Kansas City.
Magda Konieczna, the author of Journalism Without Profit: Making News When the Market Fails, said the erosion of advertising revenue was the impetus for the launch of many American nonprofit news operations beginning in about 2005. Konieczna, who once worked at the Guelph Mercury and is now an assistant professor at Temple University's department of journalism in Philadelphia, said nonprofits have proliferated because there is significant philanthropic support for journalism south of the border.
"In Canada, it's not really clear where the revenue…would come from whereas in the U.S., you'll start a thing and Knight Foundation will give you a million dollars and then you can raise money from your community," she said.
There is a long tradition of U.S. media families putting their money into foundations that support journalism, noted Chris Waddell, professor emeritus at Carleton University's School of Journalism and Communication and J-Source publisher. Examples he pointed to in a recent article for The Philanthropist include the Poynter Institute, the Knight Foundation, the Nieman Foundation and the Gannett Foundation. In Canada, although the money behind the McConnell Foundation, the Atkinson Foundation and the Max Bell Foundation originated in the news industry, the bulk of their philanthropic giving to date has focused on other issues such as education, healthcare, social justice and the environment.
Will Canadians give and keep on giving?
Lindgren said Napier-Pearce's advice about news organizations needing to be realistic about their support base is particularly relevant in light of a Reuters Institute study that found only one per cent of Canadians donated to digital news organizations in 2019.
"If you were an optimist, you could say the only way to go from here is up," Lindgren said. "On the other hand, the reluctance to donate suggests news organizations shouldn't see charitable giving as the magic solution to all their problems."
The 2019 Reuters survey also found that only nine percent of respondents paid for online news, including digital subscriptions and one-off payments for an article. In the 2020 survey, this number increased slightly to 13 percent.
News organizations in Canada must also compete for foundation grants that are much in demand, noted Grace Diffey, vice-president of community relations at the Hamilton Community Foundation. Although the foundation is interested in supporting journalism, Diffey said prioritizing it in the face of so much need is a significant challenge: "It's very difficult, especially at a time like this, to raise the profile of why [journalism is] so important when you have so much basic need with food security, shelter, basic hygiene."
Jean-Marc Mangin, president and CEO of Philanthropic Foundations of Canada, said that there is growing interest in supporting journalism amongst its membership of public and private foundations, charities and corporations, and Canadian grantmakers.
"What's clear, even before the COVID crisis, is our level of concern about the health of our democracy and the ability of citizens to fully engage in a democratic process. Attached to that is access to good journalism," said Mangin. "The level of granting to the media sector is very low but there's increasing interest by several foundations about what can be done and a curiosity of what could be the role of philanthropy to complement what the government is trying to do to maintain a vibrant ecosystem in the media front."
Emma Gilchrist, co-founder and editor-in-chief of The Narwhal, a nonprofit magazine based in Victoria, B.C., said that it's premature to speculate how much foundations will support journalism when tax rules, until now, have made such support a complicated undertaking.
"I don't think we should be judging what the sector is going to do about it before anybody even has the status," Gilchrist said. "Let's talk about it three years into the registered journalism organization actually being a thing and then we'd be able to make an assessment of whether there's support in the philanthropic sector for journalism or not."
The Narwhal, created in 2018 with the goal of bringing evidence-based news to Canadians, is the only Canadian member of the Institute for Nonprofit News in the United States. Gilchrist said that about 70 per cent of the magazine's annual revenue comes from foundations. Since the old tax rules forbade foundations from directly supporting news organizations, the funding came in the form of contracts rather than grants. The organization's recently launched Carbon Cache series, which examines the role of Canada's natural landscapes in the fight against climate change, is a result of funding through a contract from the Metcalf Foundation.
Workarounds
Like The Narwhal, other news organizations and foundations found ways to navigate around the CRA rules that did not allow foundations to support journalism:
The McConnell Foundation has supported The Discourse, a for-profit news organization based in Vancouver, by contracting work on a payment-for-service basis. The results include stories about Indigenous reconciliation and clean energy.
The Discourse has a similar relationship with Challenge for Change (C4C) Canada, a charitable organization promoting community engagement, listening, and storytelling. Erin Millar said that as CEO of The Discourse, she identifies grant opportunities that line up with her publication's objectives as well as those of C4C. C4C then applies for the grant and hires The Discourse as a contractor to complete the work. In this way, C4C and The Discourse produced a series about British Columbia's child welfare system.
In 2014, The Atkinson Foundation began funding a work and wealth beat reporting position at the Toronto Star by issuing a fee-for-service contract rather than offering the publication a direct grant.
Under the new tax rules, nonprofit news operations that become qualified donees won't have to make these types of arrangements. For-profit media organizations seeking foundation support, however, will still have to set up alternative arrangements. Paul Murphy, a CRA media relations officer, said that under the Income Tax Act registered charities, including charitable organizations, private foundations and public foundations, can only use their funds for their own activities or for gifts to qualified donees such as registered journalism organizations.
Moving forward
Gilchrist says she is optimistic that the new tax rules will attract even more donors to The Narwhal.
"It will definitely improve our fundraising efforts, especially from different types of donors, from larger donors," Gilchrist said. "It's going to be a nice perk for the 2,000 people who already make donations to The Narwhal that, when we get our registered journalism organization status, they will start getting a tax receipt for that. But where it's really going to be a game-changer is on the foundation fundraising side of things."
The Ottawa Community Foundation has already launched a Journalism Endowment Matching Program to support both nonprofit news outlets and for-profit news outlets that are partnered with a charity. Once accepted into the program, journalism organizations will have to raise a minimum of $5,000 and that will be matched by the foundation. Fateema Sayani, the foundation's director of donor engagement, said $25,000 has been allocated to support five media outlets.
"We saw a lot of missing infrastructure for news and the decline of information and what it means for communities," Sayani said. "Community foundations typically work on belonging, understanding, developing the links that keep communities together and we know that having quality information is part of that building of community."
This article was originally published on the Local News Research Project website and appears here with permission.