Working Media Podcast: Angie Lau
It takes years of dedicated work, relentless hustling and personal sacrifice to make it as a lead TV anchor like former Bloomberg Asia journalist Angie Lau. So then why did she walk away from the news desk while she was still at the top of her game? On this episode of Working Media, recorded in Hong Kong, Lau shares her fascinating journalism journey in a candid, insightful conversation about the challenges of chasing your professional dreams.
Working Media is a monthly career development podcast series that invites journalists and media professionals to offer their hard earned insight and guidance to the next generation of reporters. This podcast is presented by J-Source, the English language portal of the Canadian Journalism Project. The host of Season One is Adrian Ma, a professor at the Ryerson University School of Journalism. The technical producer is Nicole Di Donato and the executive producer is H.G. Watson.
Podcast (podcast-working-media): Play in new window | Download
Subscribe: RSS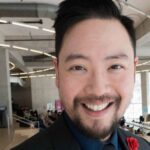 Adrian Ma is an award-winning journalist and an assistant professor at the Ryerson School of Journalism in Toronto. He has spent most of his journalism career as a reporter and digital producer and specializes in teaching multimedia storytelling and personal branding.