Working Media podcast: Elamin Abdelmahmoud
In our third episode, we chat with Elamin Abdelmahmoud. He's a editor of news curation for BuzzFeed and a social media editor for BuzzFeed Canada. He tells host Adrian Ma how not getting into a school for public policy led to a journalism career. He also offers advice on getting your foot in the door…
In our third episode, we chat with Elamin Abdelmahmoud. He's a editor of news curation for BuzzFeed and a social media editor for BuzzFeed Canada. He tells host Adrian Ma how not getting into a school for public policy led to a journalism career. He also offers advice on getting your foot in the door at media organizations.
Working Media is a monthly career development podcast series that invites journalists and media professionals to offer their hard earned insight and guidance to the next generation of reporters. This podcast is presented by J-Source, the English language portal of the Canadian Journalism Project. The host of Season One is Adrian Ma, a professor at the Ryerson University School of Journalism. The technical producer is Nicole Di Donato and the executive producer is H.G. Watson.
Podcast (podcast-working-media): Play in new window | Download
Subscribe: RSS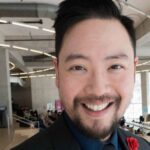 Adrian Ma is an award-winning journalist and an assistant professor at the Ryerson School of Journalism in Toronto. He has spent most of his journalism career as a reporter and digital producer and specializes in teaching multimedia storytelling and personal branding.