Working Media podcast: Lindsay Michael
In our second episode, we chat with CBC's Lindsay Michael. You'd know her best as the producer and co-host of CBC Radio's Podcast Playlist. What you may not know is that her co-hosting the show was not part of the original plan! We also discuss the importance of networking in helping her career and how she overcame her nervousness about doing it.
Working Media is a monthly career development podcast series that invites journalists and media professionals to offer their hard earned insight and guidance to the next generation of reporters. This podcast is presented by J-Source, the English language portal of the Canadian Journalism Project. The host of Season One is Adrian Ma, a professor at the Ryerson University School of Journalism. The technical producer is Nicole Di Donato and the executive producer is H.G. Watson.
Podcast (podcast-working-media): Play in new window | Download
Subscribe: RSS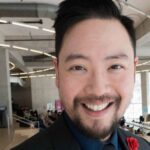 Adrian Ma is an award-winning journalist and an assistant professor at the Ryerson School of Journalism in Toronto. He has spent most of his journalism career as a reporter and digital producer and specializes in teaching multimedia storytelling and personal branding.