Zooming in on access to justice
In a physical setting, Toronto Star courts and justice reporter Alyshah Hasham would sit in a courtroom, only able to catch silhouettes of attending participants from a distance. She's witnessed the transition as courts adjusted to a digitized world since March 2020. "It's been great in terms of accessibility. I finally get to see people's faces," she said, of the close-up views videoconferenced trials have provided.
Hasham highlights the logistical challenges that existed when there weren't virtual options to attend courts. For instance, while covering a murder trial that was allowed to proceed in person before the second COVID-19 wave hit Ontario, she recalls feeling guilty about taking a family member's spot due to restrictions on the number of people in the courtroom.
"A virtual option could have prevented that," she said.
The difficulties raised by Hasham were experienced across the country. When the pandemic began in March 2020, jury trials were delayed until in-person hearings could continue safely. While restrictions would later ease, subsequent COVID-19 waves prompted similar postponements from the justice system, which raised concerns from impacted family members and participants on deferred justice for their loved ones.
In Canada, the open court principle is intended to ensure almost all court proceedings are accessible to the public and media to ensure confidence in the administration of justice and the integrity of the judicial system. This principle is linked with section 2(b) of the Charter of Rights and Freedoms, the "freedom of … expression, including freedom of the press and other media of communication."
A number of systemic efficiencies emerged from Canadian courts during these 18 months of rolling lockdowns, including proceedings in all levels of court being held online, expediting the time and lowering costs of dealing with cases and upholding the open court principle.
While the media and courts simultaneously work to uphold the access to justice principle, the powers have for decades been at an impasse with respect to an integral issue: whether journalists should be allowed to publicly disseminate audio or video from inside courtrooms.
This extension of media access could take several forms — news organizations could exercise editorial discretion and pull clips from court recordings to integrate into products such as news stories, podcasts and documentaries, or they could livestream trials in their entirety — what's usually referred to as "gavel-to-gavel coverage" in the United States.
"People have the right to walk into the courtroom and see what's going on," Toronto media lawyer Daniel Henry said. "They have a right to see it, wherever they are, as long as the process isn't adversely affected."
Giving people who aren't able to attend court the same chance to see and hear what happens in a courtroom is a logical extension of that right, he argues.
The pandemic has shown that courts have the ability and capacity to host proceedings online. Given the positive impacts of this increased public access, it's time to consider if the restrictions preventing journalists from either using their own audiovisual equipment or tapping into a court-run video feed to share courtroom proceedings on their platforms have become outdated.
A case for justice
While the traditional argument against broadcasting trials on news platforms is that jurors and witnesses could be influenced by the effects of a televised trial, recent examples in high-profile cases suggest otherwise. In March 2021, the verdict for Alek Minassian was delivered before an audience of 6,000 viewers, as reported by CTV News.
Despite the verdict — which saw Minassian, who ran down pedestrians with a rented van in a 2018 terror attack, convicted of 10 counts of murder and 16 counts of attempted murder — his lawyer, Boris Bytensky, described the virtual trial as "a great experience," adding that "it proved we can do serious cases on Zoom."
"When asked if the outcome of the trial would have changed in any way had it been conducted in person, Bytensky said no," reported CTV News.
In another high-profile Ontario case, the verdict involving a white police officer and his brother who had violently assaulted a Black teenager was livestreamed and viewed by 20,000 people. The incredible reach of the ruling in the assault of Dafonte Miller was described as "a pandemic experiment that should become a post-pandemic model" by the Globe and Mail's editorial board.
These live-streamed proceedings have been of educational value to the public. The intersection of systemic issues at the core of each case — from discussions on the use of the not criminally responsible defense to police brutality against Black men — were disseminated in real time, allowing the public to engage with the issues and reasoning behind the verdicts while hearing the judges' considerations in their decision-making.
However, even though these verdicts were available for anyone to livestream, court orders prevented journalists (or any other member of the public) from taking excerpts of the video feed to use in stories related to the trial.
News organizations have advocated for, and often succeeded in, moving the needle forward to allow expanded electronic access to courtrooms throughout the country. While the debate has long since concluded for our U.S. counterparts, who recognized over 40 years ago that audiovisual equipment had advanced to a point that it was no longer disruptive in the courts, Canadian courts have been slow to accept such change.
In various challenges to the restrictions, news organizations have both asked courts for permission to do the recording themselves or to leave control of the recording equipment to the courts themselves, with journalists tapping into court-provided livestream.
A historical analysis of broadcasting in Canadian courtrooms
In May 2021, I worked as a student researcher with journalism and media law professor Lisa Taylor on an expert report for a case regarding media courtroom audio and camera access. I canvassed the policies of electronic access and courtroom camera pilot projects in multiple levels of courts in every province and territory in Canada, searching for variances in policy.
Issues surrounding broadcasting courtroom proceedings were, and continue to be, addressed by Canadian courts on an ad hoc basis. The general consensus is to disallow the media from sharing recordings of, broadcasting or distributing any audio or video recordings of courtroom events while in session.
The onus is on journalists to make written requests to the presiding judge to prove why certain proceedings should be broadcast. Access remains strict, despite numerous experiments across the country that have shown that broadcasting proceedings betters the public's ability to engage with the justice system.
"The onus is being placed in the wrong direction," Henry said. "It should be that the courts start open, and that every one of these media restrictions has to be justified."
The first time that a camera was allowed in a Canadian courtroom was in 1981, when the Supreme Court of Canada allowed the broadcast of the Patriation Reference case decision, according to Henry's paper in the Canadian Encyclopedia. Since the mid-1990s, the court has permitted broadcast of its hearings and since 2009, has been providing on-demand live webcasting of hearings that are also televised.
In 1987, the Law Reform Commission of Canada and the Canadian Bar Association conducted an independent study of broadcasting courtroom proceedings, outlining a recommendation for immediate camera access to courts of appeal and calling for a two-year experiment with cameras in trial courts.
Following this recommendation, in 1995, the Federal Court of Appeal began a two-year experiment with electronic coverage and the Nova Scotia Court of Appeal followed suit with a two-year experiment in 1996.
A decade later, in 2007, a panel of lawyers, journalists and other legal experts recommended that the attorney general of Ontario allow cameras in the appeals and divisional courts to increase the openness of the courts.
This recommendation sparked a three-month pilot project in Ontario's Court of Appeal, which had 21 cases heard in designated courtrooms outfitted with audiovisual equipment to live-stream the Internet. Live audio feed was also available for radio reporters, to plug in and receive mono feed from all 16 cameras set up in the courtroom.
By the project's end, 95 per cent of participants who were surveyed said that access to courtroom proceedings was enhanced by livestreaming. Roughly 40 per cent believed that the courts could have done more to enhance this rare access with greater publicity of the cases to increase engagement and a greater commitment to accessibility standards for individuals with disabilities.
After recognizing the relatively low number of members of the public that had the opportunity to attend courtroom sessions in person, Manitoba's courts also spearheaded a project which has been going strong since its inception in 2014. All three levels of Manitoban courts allowed for the presence of a camera in a designated courtroom during a proceeding to broaden public access.
The project has since seen 10 proceedings livestreamed directly from the courtroom. The approach taken by Manitoba is unique among other provinces and territories in Canada, whereby the onus is no longer placed on members of the media to apply for the court's permission to broadcast but on participants of designated proceedings. They must automatically assume that cases assigned to those courtrooms will be broadcast.
Similarly, the Court of Appeal of British Columbia initiated a webcast pilot project in 2013 (which continues to this day) to evaluate the benefits of making appeals of "significant public interest" available to be viewed remotely.
In 2019, the court released a report that determined that the project was a success. The report identified four distinct criteria that would be used to select appeals to broadcast in the future, the most relevant to this pandemic being: "whether the appeal involves parties who are located in remote locations or involves the interests of people for whom attending court in person is practically impossible."
Feedback received from the public and the media was positive, indicating that the webcasts were useful as educational tools, presented new opportunities for individuals to partake in courtroom proceedings who previously did not have the chance to attend, useful for notes verification for journalists and had significant historical value.
Keeping in mind that these initiatives operated successfully prior to a global pandemic that forced the courts to rely on technology more than ever before, their success indicates a willingness, albeit a slow one, of the courts to broaden access and to allow the media to do their jobs.
The debate through a new lens
Storytelling is at the heart of journalism. It is a means by which communities and audiences can become engaged with social issues and acts as a means of accountability. "When it comes to news in general, the audience has an emotional response to the stories they read," journalist and podcast host Hannah Sung said in an interview with J-Source.
With the progression of technological developments in the past two decades, modes of storytelling have rapidly transformed the field of journalism. Multimedia reporting is now a staple of regular coverage, permeated with stories told through tweets, photo essays, televised broadcast videos that are also accessible online, livestreams on social media and increasingly, podcasts.
Sung has delved deeply into the use of podcast storytelling in journalism as a means to engage audiences on complex social issues. With the number of Canadian listeners consistently growing with each passing year. The "true crime" genre in particular, which explores the details of actual criminal investigations and trials, has reigned supreme.
"Podcasting, in particular, can be more honest and transparent about that emotional response," Sung said. "The human voice really centres a connection with our humanity and connection to each other."
These lengthy, audio-based narratives give time and attention to the concepts of racism, poverty, systemic discrimination, government policy and more in a series of narrated episodes that unpack the issues involved while providing adequate room for public discourse, Sung explains on J-Source.
Legal issues and jargon are confusing for a majority of the public, especially members of marginalized communities who may face a myriad of barriers when accessing these systems. Podcasts that feature audio from actual courtroom proceedings can help the public to better understand how the legal system functions, which can further trust and confidence in the system. Preventing them from doing so is counterproductive.
What are the implications of this access?
Journalists have used podcast series such as Finding Cleo and In the Dark, which Sung outlines in her 2020 essay, to shine a light on the justice system's flaws and abuses to trigger widespread attention and spark change. The accessibility of these mediums helps promote engagement and interest in these issues.
While the broadcast of courtroom proceedings can help marginalized communities access the justice system, repercussions can emerge for these groups who are often overrepresented in that very system.
"On one side, think of how much better people would understand the legal system if they could see it in action. There's no substitute for hearing voices, seeing someone's facial expressions," Hasham points out.
"But the other side is potentially harmful to racialized people, it's very stigmatizing to be found guilty of a criminal offense. People don't just end up doing terrible things, terrible things happen to them along the way."
Sung echoes these sentiments, advising that journalists also have a responsibility to think about the power imbalances between reporters and their interviewees when it comes to reporting on stories in the justice system.
"The extractive nature of journalism and personal storytelling can give you a lot of power," she said. "You need to be very honest about who you are, and how holding a microphone naturally gives you a lot of power in the equation."
While the news industry has historically strived to achieve an abstract notion of objectivity in reporting, Sung signals a shift in attitudes of newer generations that are actively striving to combat these outdated beliefs and think about how their work can perpetuate oppression and discriminate against marginalized communities — especially when reporting on them as participants in the justice system.
"I really believe in protecting people in the courtroom space," Sung said. "We all understand that there are systemic forms of oppression, especially in the criminal justice system and journalism perpetuates that. It is not perfect."
The impacts of the global crisis on the courts have been immeasurable: geographic barriers became irrelevant and a paper-based bureaucracy finally transitioned to carrying out virtually all functions online. It has forced courts to adopt progressive new access policies to uphold freedoms which allowed reporters and the public to access proceedings through Zoom and other webcasting platforms by simple virtue of requesting a meeting link.
Ultimately, while there are considerations that need to be taken into account, it is time for courts to allow journalists to freely broadcast both audio and visual content directly from the courts onto their respective platforms.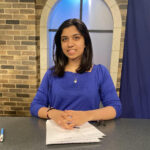 Kirti Vyas is a freelance journalist based in Toronto. She is a recent journalism graduate of the Creative School and currently a first-year J.D. candidate at Osgoode Hall Law School. She enjoys writing about public policy, human rights and breaking news stories.