A case study in nondisclosures
(Disclosure: I'm the full-time paid publisher of Briarpatch Magazine, a volunteer board member of the Media Co-op, CEO of the currently inactive environmental consulting company Porpoise B Consulting, and freelance journalist. My partner is a designer for the CBC, not involved in content.) Derek Burney has been writing op-eds for the Globe and Mail since…
(Disclosure: I'm the full-time paid publisher of Briarpatch Magazine, a volunteer board member of the Media Co-op, CEO of the currently inactive environmental consulting company Porpoise B Consulting, and freelance journalist. My partner is a designer for the CBC, not involved in content.)
Derek Burney has been writing op-eds for the Globe and Mail since 2011. He writes about the implications of major deals and negotiations like NAFTA, pipelines, trade with China, the role of Canada and the United States in the Middle East, and more. In the last year, Burney has become something of a super stringer for the opinion section, with bylines on 15 op-eds, several co-written with Fen Osler Hampson, a professor at Carleton University.
Atop each column his expertise is described as follows: "Derek Burney was Canada's ambassador to the United States from 1989 to 1993. He led the Canadian delegation in concluding negotiations of the Canada-U.S. free-trade agreement."
Burney is likely not the only columnist whose relevant ties – normally viewed in journalism as a conflict of interest – are not fully revealed by Canadian papers. But this case, partly on account of prolific writing on important matters pertaining to energy and security issues, is an instructive one. Do publications do enough legwork to investigate contributors' backgrounds and connections to the stories they pitch, and to inform readers of these connections?
It doesn't seem so. Take a look at a recent Burney column published in the Globe with this same description. In Burney's op-ed in August, "It's time for a fresh look at Energy East," readers were not informed that from 2005 to April 2018 Burney had been a director of TransCanada Pipelines, which had lobbied for the failed Energy East pipeline it stood to build and operate.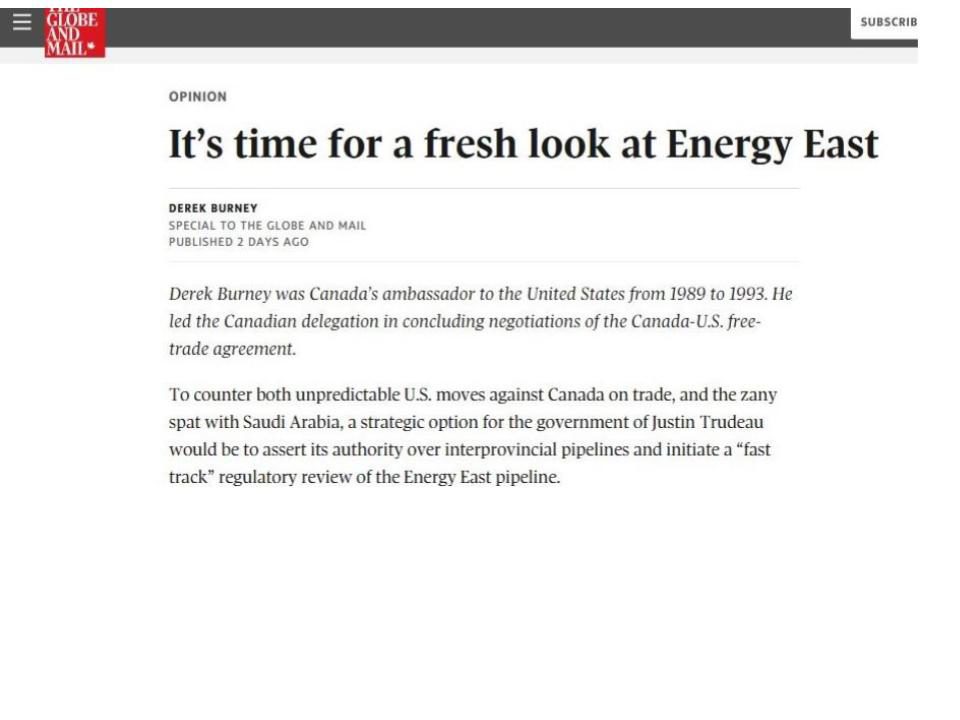 After being called out on Twitter and receiving emails on the matter, in September the Globe's public editor, Sylvia Stead, acknowledged that Burney's TransCanada connection should have been disclosed to readers in this one instance.  
Stead's post also mentioned some of Burney's other activities, including other corporate roles.
Has the Globe adequately disclosed those to readers over the years? And what, if anything, has changed regarding disclosures in the articles Burney has published with the Globe over time?
First, a note on disclosures. Disclosures are made to help readers understand the interests of the writer. News journalists, who aim for impartiality on the topics they cover (whether they can ever achieve impartiality is another discussion), are expected to not have major interests – financial stakes, advisory roles or memberships, for example – in what they are covering. You would expect that a reporter covering the cannabis industry, for example, would not be a director or executive for a cannabis company.
Other media outlets have also neglected to mention Burney's corporate connections, and those of other opinion contributors.
Foreign Affairs published an article Burney co-authored with Fen Osler Hampson, "How Obama Lost Canada," in June 2012, five months before the American election. The first sentence reads, "Permitting the construction of the Keystone XL pipeline should have been an easy diplomatic and economic decision for U.S. President Barack Obama." Burney's TransCanada directorship was not mentioned. The piece was widely read and it was only once the Toronto Star started asking questions about why no disclosure had been made that a disclosure note was added to the article.
iPolitics, CTV, and BNN have also at times neglected to disclose Burney's ties when relevant NAFTA, energy, and other issues are discussed, either in print or on television. At other times, either the publications or Burney have disclosed his ties.
The Globe & Mail's code of ethics, updated in 2017, says this on the topic:
"As a general rule, reporters and columnists should avoid taking part in coverage of matters in which they have or may be perceived to have significant personal interests."

"In this context, personal interest means a financial stake in a matter being covered, an outside involvement with a group or association being covered, a close friendship, romantic attachment or near-family relationship to someone whose career or other interests may be affected, or any other entanglement that could lead to less than even-handed treatment."
How this is mitigated for people with various ties and interests is through disclosure:
"In columns and feature stories, significant personal interests may be noted either in the text or in italics at the end. This gives the reader an even break and generally takes care of the problem."
In addition to this policy, the Globe and Mail has had a public editor position since 2012 (a role Stead has held since), an effort to build trust with its audience and respond to its concerns.
Alan Conter, lecturer of journalism law and ethics at Concordia University, says in a phone interview that in Burney's case, "There should be disclosure made when he writes on topics relevant to his corporate roles. I think the Globe and Mail needs to be rigorous, especially as it positions itself as the paper of record for business and corporate affairs." (Conter is also a communications consultant and formerly worked for the CBC – disclosure!)
It is more common for op-ed contributors, who are expected to have opinions, to have personal interests. In an op-ed, you may expect to read, for example, a cannabis company executive arguing their point of view on the cannabis industry. The key is that readers are informed of this personal interest.
In this context, it is well within the Globe's ethics code to publish the opinions of someone like Burney, as long as his interests, especially financial interests, be they real or perceived, are made clear to readers.
In June 2015, when Burney argued in an op-ed for the federal government to use its constitutional powers to advance work on pipelines, LNG (liquid natural gas) projects, and more, it was not disclosed that he was a lobbyist for Bear Head LNG, which was proposing to build a major LNG facility in Nova Scotia. In the week before this article was published, Burney had lobbied two federal ministers and Canada's ambassador to the United States on behalf of Bear Head LNG, according to Office of the Commissioner of Lobbying of Canada records. Burney was also a director of TransCanada Pipelines at the time, proponent of the Energy East and Keystone XL pipelines.  
In October 2017, Burney wrote about NAFTA, calling on Prime Minister Justin Trudeau to secure better market access for Canadian exports in trade negotiations with Trump. At the time, according to the lobbyist registry, Burney was lobbying the federal government on behalf of FGF Brands Inc. – an Ontario-based bakery that sells products in Canada, the U.S., and Puerto Rico – about the implications of the NAFTA renegotiation on the company's access to the U.S. market.
A scroll through the Globe's Burney disclosures
[slide-anything id="26886″]

Asked whether, in light of Burney's extensive ties and lobbying efforts, the Globe would be making additional acknowledgments of conflict of interest, or internal changes, public editor Stead directed attention to her public Sept. 6 post, and would not comment further. "I will let my blog on the issue stand," she wrote by email.

Comment editor Natasha Hassan, who oversaw most of Burney's articles noted here, and editor-in-chief David Walmsley did not respond when asked for comment.

No retroactive disclosures were made on Burney's many op-eds available online, not even the Energy East op-ed that Stead focused on.

The Globe has continued publishing Burney since Stead's post.

Burney and the Globe staff work together on the disclosures process when he writes, he explained by email in response to a request for comment. Asked whether he had disclosed his roles with GardaWorld, Bear Head LNG, or Paradigm Capital (see sidebar) to the Globe, Burney replied "No. I have no fiduciary responsibility with GARDA, Bearhead or Paradigm and no longer represent FGF Brands. None of these affiliations is in any event relevant to anything I have written for the Globe." While Burney's work with these corporate clients is paid, in a strictly legal sense it is only the board of directors and officers of a corporation who have fiduciary responsibility, meaning the responsibility to act in the best financial interest of the corporation.

Asked whether he thinks the Globe does an adequate job disclosing to readers potential conflicts influencing writer's views, Burney responded, "Yes I think experience is often the major influence on my views even though Op Ed's are by nature expressions of opinion. And yes I believe the Globe is meticulous in vetting both opinions and qualifications."

In September, Burney turned his attention to cyberattacks in an op-ed, pushing the Canadian government to broaden a review it was conducting, and to invest in domestic technology. His role as chairman on Montreal-based GardaWorld's advisory board was not disclosed. GardaWorld touts itself as a leading provider of services to protect against attacks on information technology (IT) systems.

In November, Burney's GardaWorld role was again not disclosed when writing about how Canada should approach war-torn Afghanistan, including how to direct money. GardaWorld has for years been providing security services in Afghanistan, and is currently hiring there.

Burney's conflicts of interest, real or perceived, remain mostly unacknowledged by the Globe.

"I think good practice is to disclose," says Western University journalism professor Romayne Smith Fullerton in a phone interview. "I don't see a reason why not to."

Smith Fullerton understands the resume for someone like Burney is long, and so a publication won't disclose everything he has been involved with. "For example," she says "I don't think it was super relevant that he was Canadian Ambassador to the U.S. from 1989 to 1993 when he's writing about Energy East, when he was a director of the Keystone XL and Energy East proponent TransCanada from 2005 to 2018. Similarly with GardaWorld if he's writing about the Middle East."

"These connections can't be a mystery to most people at the Globe," she says, noting that Burney is a well-known figure in politics and business. "When it's so easy to find this information, when anyone can Google it, when it's so easy to call foul, why wouldn't you be more up front?"

Checking to see that Burney is a registered lobbyist is a straightforward online process. However, his lobbying activities are not acknowledged anywhere in Stead's public letter, or in disclosures on articles.

"They can't codify all behaviours," says Smith Fullerton, "that's impossible. But their code of conduct's aim is clearly to have transparency to build credibility. Here they are contravening the spirit of the code of conduct, as well as some specifics in it."

Discussing the Globe's lack of a response to J-Source's follow-up questions about regaining readers' trust, Smith Fullerton asks, "Are we now at a stage where we need a readers' advocate for the readers' advocate?"

"It's baffling to me: why, given an opportunity to address a lack of transparency, would you choose more obfuscation?" Smith Fullerton adds by email. "She must have her reasons; I'd love to know what they are."

The issue, of course, is not limited to one contributor at one outlet.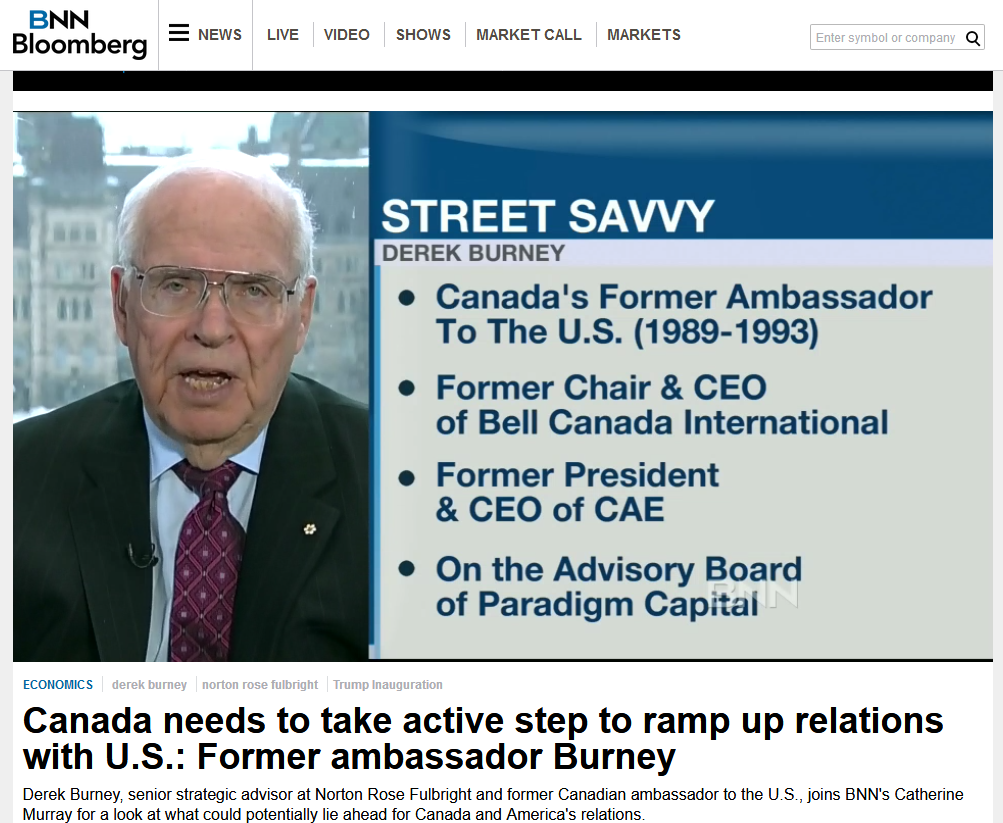 When Brad Wall wrote an op-ed in the National Post in November, "Liberals previous energy missteps echoed in current national emergency," it was mentioned only that he was formerly the premier of Saskatchewan, not that he is currently employed as a consultant with law firm Osler, Hoskin & Harcourt LLP. As Wall's profile on the company website states, "Brad offers Osler clients his strategic insight and guidance, particularly in relation to the energy and agri-food industries. In addition, clients will benefit from Brad's extensive understanding of the interconnection between business, politics, and trade, on a global scale." Among the firm's current clients is oil giant Husky Energy, though Wall is not specifically listed on that project team.
"What that tells me is that this practice of not checking columnists' connections and credentials is widely spread, and widely accepted," says Smith Fullerton.
The internet and social media are changing the gatekeeping role of newspapers and other media outlets, says Smith Fullerton. "You either work harder to readjust standards, or lose credibility. And if you're not doing this with credibility, you're asking to be taken down."
Commenting on the Globe and Mail in particular, which bills itself as the paper of record, 'Canada's National Newspaper,' Fullerton asks, "How am I supposed to teach my students (these standards) if the Globe won't meet those standards?"