Have an event you'd like to have appear on our events calendar? Please fill out the event form.
All events will be reviewed by an administrator before appearing on the calendar.

Fast Forward: Trust, Tech and the Media
January 26, 2021 @ 1:00 pm

-

2:30 pm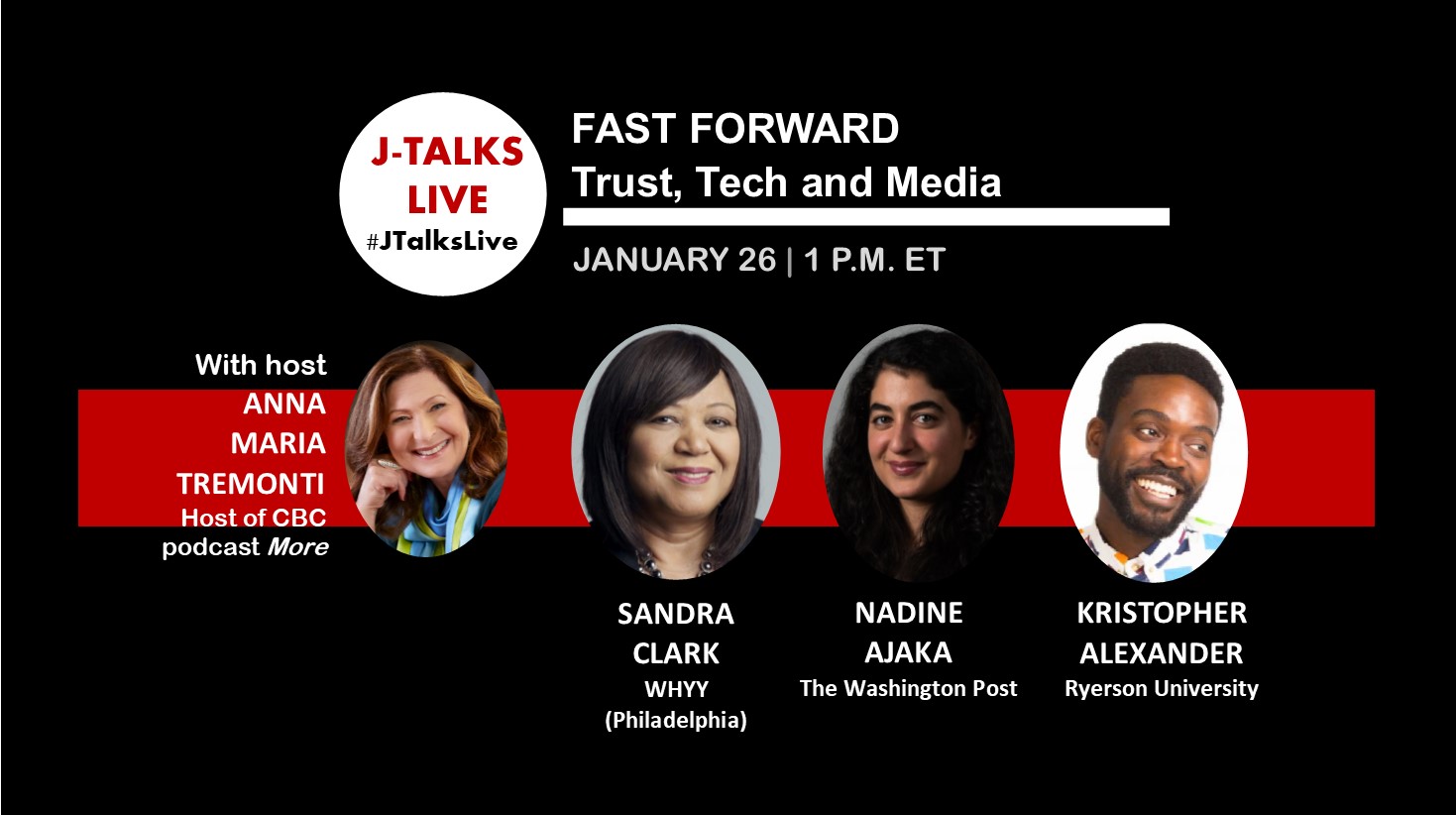 It's all happening—and happening fast across the media spectrum: digital transformation, diversification of newsrooms and efforts to engage the diverse communities media organizations seek to serve. But there are still challenges and more change to come — how best to connect with those who are typically underserved, whether it be communities of colour, the disenfranchised or the young and disengaged? How can innovations in today's technology be applied to reach various audiences? Particularly, can technology from the gaming world be deployed to our digital-first storytelling future?
Join Sandra Clark, vice-president for news and civic dialogue at WHYY, the public media organization serving the Philadelphia region, Nadine Ajaka, senior producer of visual forensics with The Washington Post, and Kristopher Alexander, assistant professor with a focus on video games at the RTA School of Media at Ryerson University, in a virtual conversation with host Anna Maria Tremonti, host of the podcast More.
Tuesday, January 26, 2021
1 p.m. ET
ABOUT THE SPEAKERS
Sandra Clark is vice president for news and civic dialogue at WHYY, the Philadelphia region's leading public media outlet. Clark, who joined WHYY in 2016, is a member of the executive leadership team and manages all news operations for radio, television and digital media. In addition, she leads digital transformation, audience diversification and community engagement initiatives at the station. She is a long-time vocal advocate for diversity, inclusion and equity, and closing the power and trust gap between journalists and communities of colour. Clark also is a contributing instructor/coach to emerging leaders for the Poynter Institute. Clark was previously managing editor at the Philadelphia Inquirer, where she served on the executive leadership team, created a revenue-driven innovation team and developed a reader-supported after-school healthy eating program in Philadelphia schools. Under her leadership, the Inquirer was awarded a Pulitzer Prize for criticism in 2014. @SandraSWClark
Nadine Ajaka is the senior producer for video platforms at The Washington Post, where she has worked since May 2017. At The Post, Ajaka works with platforms including YouTube, Facebook, Amazon and Apple to ensure the right type of video appears in front of the right audience. Before that, she was at the Atlantic, where she was video curator and associate producer. At the Atlantic, Ajaka oversaw films from outside contributors and featured more than 300 short films from independent filmmakers on theatlantic.com. She was one of 25 women selected for the 2017 Online News Association's Women's Leadership Accelerator. She's a former Fulbright scholar. @nadineajaka
Dr. Kristopher Alexander is assistant professor for the RTA School of Media at Ryerson University. His research focuses on video games, specifically, how video game design provides a model for developing active engagement within higher education. It also looks at the influence of video games on attitudes and capacities of individuals and communities of fans. Most recently, Dr Alexander has undertaken research-creation in the area of esports, where he developed curriculum for video game engine architecture, and helped build e-sports infrastructure. He is also developing his own video game which will embody his research in audience engagement. Dr. Alexander has taught broadcast media, game design, audio production, multi-platform media, social media and creative thinking. He has also created video game development curricula and programs for a number of post secondary institutions and other organizations. @Videogamesprof
ABOUT THE HOST
Anna Maria Tremonti is the host of the CBC podcast More, a series of conversations with high-profile guests and rising stars from a variety of fields. The podcast represents a change, and a progression toward more immersive conversations following her success hosting the CBC Radio's The Current, the flagship current affairs program she helped create. Prior to that Tremonti was a co-host of CBC Television's investigative program the fifth estate and before that she was covering war, disaster, politics and society as a foreign correspondent for CBC's The National, with postings in Berlin, London, Jerusalem and Washington. @amtremonti #MorewithAMT