Have an event you'd like to have appear on our events calendar? Please fill out the event form.
All events will be reviewed by an administrator before appearing on the calendar.

Media in Crisis: Can Journalism Survive – and Thrive – in this Year of Challenge?
October 29, 2020 @ 1:00 pm

-

2:30 pm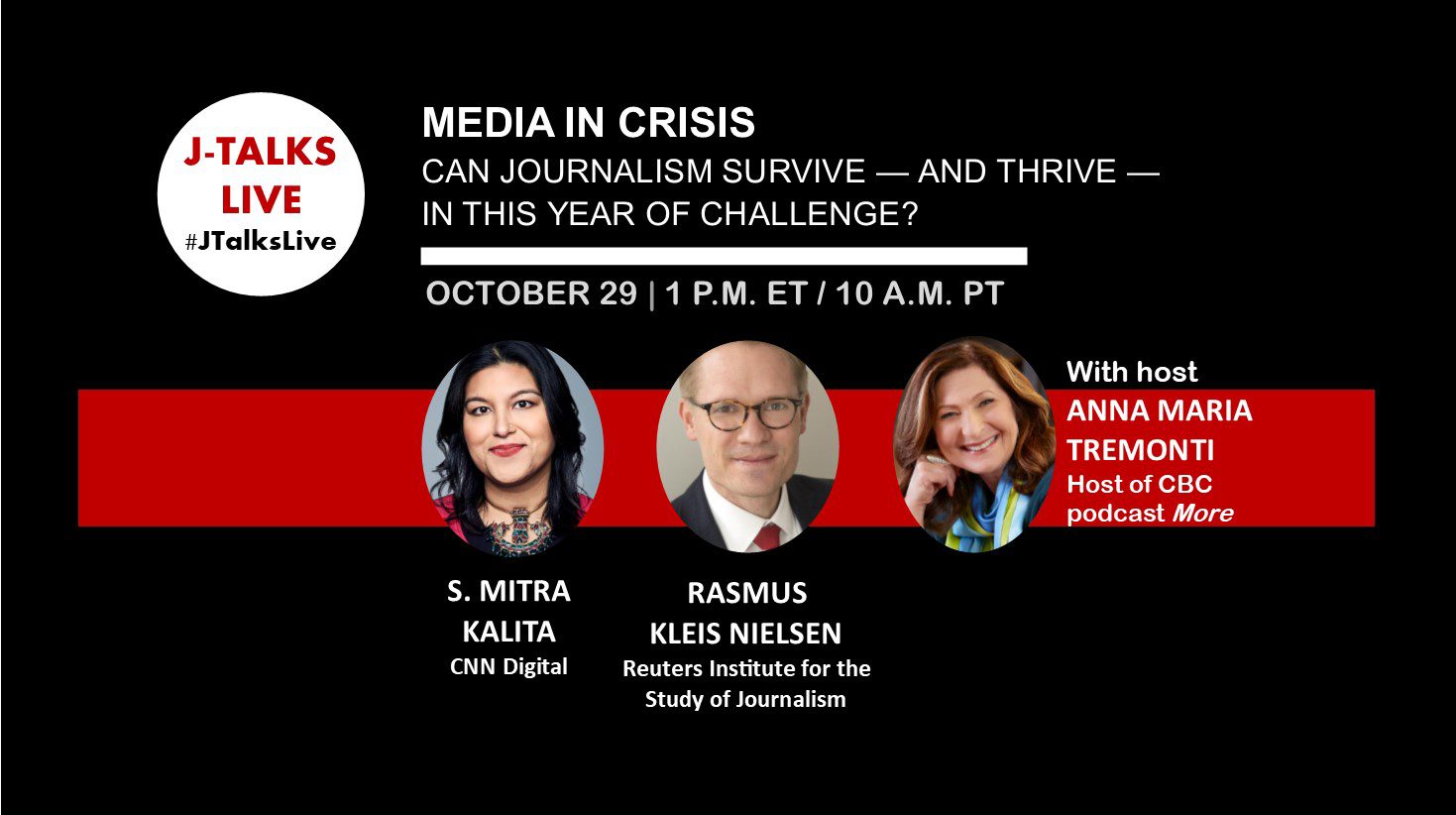 "Pivot" is a word well-used during the pandemic, and one that news organizations are familiar with—they've been doing it for years in the face of diverted audience attention and declining ad revenues. Add to that mix the uncertainty of the COVID-19 crisis and a polarized political environment. How is this all impacting news organizations? What does this mean for the sustainability of media's business models? What will it take to survive in this new reality?
Join S. Mitra Kalita, senior vice president for news, opinion and programming for CNN Digital, and Rasmus Kleis Nielsen, director of the Reuters Institute for the Study of Journalism at the University of Oxford, in conversation with host Anna Maria Tremonti, also host of the CBC podcast More.
Thursday, October 29
1 p.m. ET / 10 a.m. PM
ABOUT THE SPEAKERS
S. Mitra Kalita is the senior vice president for news, opinion and programming for CNN Digital. Kalita leads the national news desk and efforts to creatively share CNN's journalism and storytelling across an ever-exploding array of platforms. Her portfolio also includes the Entertainment team, News & Alerting, and Mobile & Off-Platform teams. She arrived at CNN in 2016. Kalita was previously managing editor for editorial strategy at the Los Angeles Times, executive editor at large for Quartz, and has worked at the Wall Street Journal, Washington Post, Newsday and the Associated Press. She was a founding editor and columnist of Mint, a business paper in New Delhi. Kalita is the author of Suburban Sahibs and My Two Indias. @mitrakalita
Rasmus Kleis Nielsen is director of the Reuters Institute for the Study of Journalism. He is also professor of Political Communication at the University of Oxford. He was previously director of research at the Reuters Institute and editor-in-chief of the International Journal of Press/Politics. His work focuses on changes in the news media, on political communication, and the role of digital technologies in both. He has done extensive research on journalism, American politics, and various forms of activism, and a significant amount of comparative work in Western Europe and beyond. He serves as a member of the editorial boards of Digital Journalism, the Journal of Information Technology & Politics and Social Media + Society. @Rasmus_Kleis
ABOUT THE HOST
Anna Maria Tremonti is the host of the CBC podcast More, a series of conversations with high-profile guests and rising stars from a variety of fields. The podcast represents a change, and a progression toward more immersive conversations following her success hosting the CBC Radio's The Current, the flagship current affairs program she helped create. Prior to that Tremonti was a co-host of CBC Television's investigative program the fifth estate and before that she was covering war, disaster, politics and society as a foreign correspondent for CBC's The National, with postings in Berlin, London, Jerusalem and Washington. @amtremonti #MorewithAMT