Have an event you'd like to have appear on our events calendar? Please fill out the event form.
All events will be reviewed by an administrator before appearing on the calendar.

World News Day: The Climate Crisis
September 28, 2021 @ 8:00 am

-

5:00 pm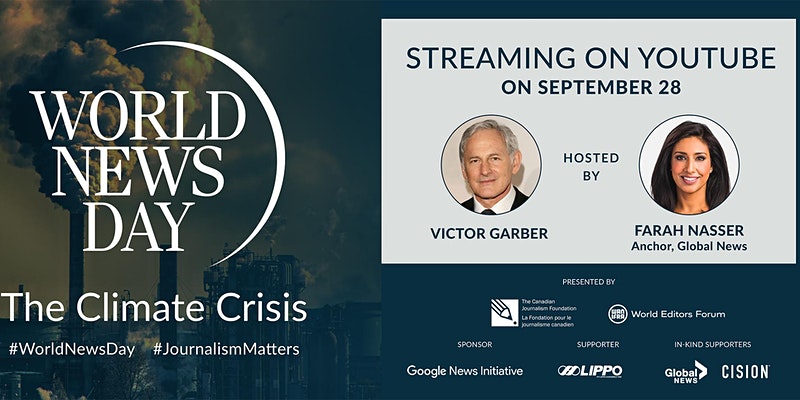 World News Day 2021 highlights the vital role journalism plays in providing the facts for us all to act on the climate crisis, the defining issue of our time.
Visit: www.worldnewsday.org
Featured stories include:
Wildfires in North America | Solar projects in Singapore | Floodwaters in Germany and China | The impact of lockdowns on carbon emissions | A tale of two penguins in Antarctica | Refugees of the Sun, Honduras | Indigenous guardians in Canada | Lakes losing oxygen faster than oceans | Youth activism and climate work | Coal and climate in South Africa | Climate change threat to Iraq Bedouins
With stories from:
Al Jazeera | BBC | CBC News | Deutsche Welle | Global News | Reuters | South China Morning Post | The Straits Times | The Globe and Mail | The Guardian | National Observer/Indigenous Leadership Initiative | The New Yorker | The Sacramento Bee | Thomson Reuters Foundation | Univision
In addition to this flagship virtual event, World News Day includes a worldwide initiative of more than 300 newsrooms that aims to highlight the importance of reliable, fact-based information in a healthy democracy.
World News Day is presented by The Canadian Journalism Foundation and the World Editors Forum.
ABOUT THE WORLD EDITORS FORUM
The World Editors Forum is the leading global network for editors of news organizations within WAN-IFRA. It is built on a commitment to defend press freedom and promote editorial excellence. It was established more than two decades ago and focuses on building the capacity of newsrooms through training, innovative practices, conferences and sharing of experiences.