Everybody Knows This is Nowhere
Media Localism: The Policies of Place. By Christopher Ali. University of Illinois Press – 2017. 272 pages. $25.00. The challenge of enhancing local media regulation beyond geographic and spatial considerations is at the heart of Christopher Ali's recent book Media Localism: The Policies of Place. Ali, a Winnipeg-raised University of Virginia media studies professor, sets…
Media Localism: The Policies of Place. By Christopher Ali. University of Illinois Press – 2017. 272 pages. $25.00.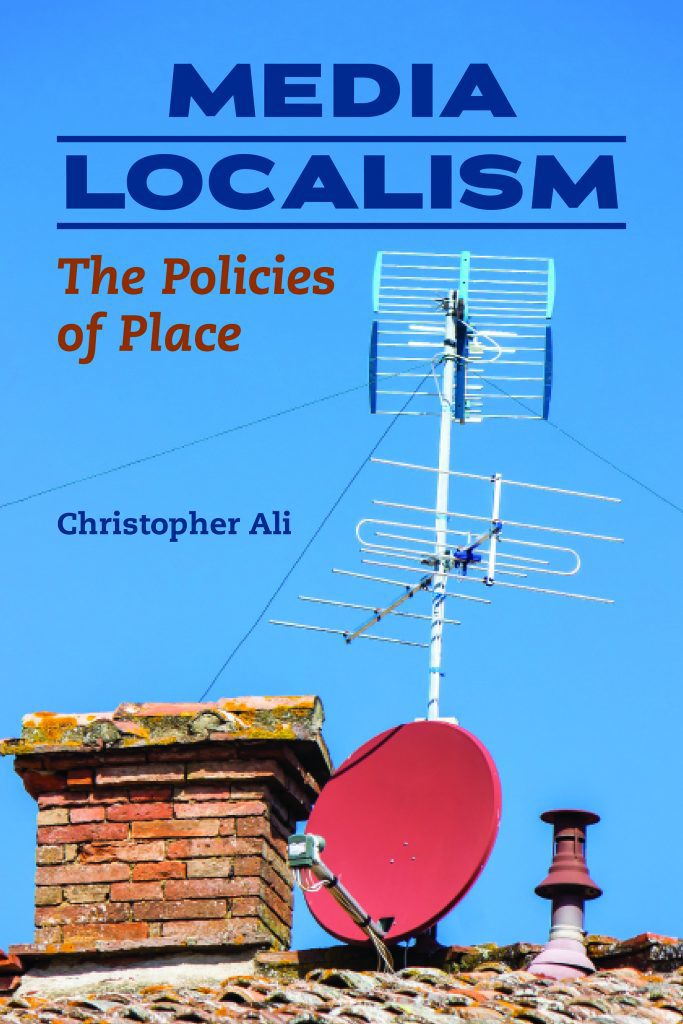 The challenge of enhancing local media regulation beyond geographic and spatial considerations is at the heart of Christopher Ali's recent book Media Localism: The Policies of Place. Ali, a Winnipeg-raised University of Virginia media studies professor, sets out in the book to assess "what it means to be local in the digital age" by way of a rigorous comparison of how notions of local media have been defined and regulated in Canada, the United Kingdom and the United States.  Stressing how "the local is contextual and contingent upon mobility, class, and life cycle," Ali details the regulatory hits and misses of local media in the three featured countries in a post-analog context.
Using Northrop Frye's query of "where is here?" to launch the book, Ali presents a detailed accounting of how Canada, the United Kingdom and the United States have articulated their own regulatory answers (or lack thereof).  Ali outlines how First Amendment rights of U.S. broadcasters factored into attempts at local media regulation by the Federal Communications Commission. In Canada, Ali describes how the Canadian Radio-television and Telecommunication Commission's short-lived Local Programming Improvement Fund required Canadian cable and satellite providers to contribute funds to Canadian television broadcasters to aid in the creation of local programming. And Ali explores the local regulatory challenges faced by the comparatively new U.K. Office of Communications in light of the pre-existing public broadcasting mandate of the British Broadcasting Corp. and the regional mandate of the UK commercial broadcaster ITV.  Ali argues "there is nothing inherently natural about local places" since "places are social constructs" and that "ideas about the local have been further complicated by the rise of the internet and the decline of traditional journalism to which it has contributed."
While defining locality based on geography can itself be a challenge, as detailed by Ali's excellent Canadian examples of the "slippage" caused by Prince Edward Island's "blurr(ing)" of local, regional, and provincial media, in addition to the claim made by Hamilton's CHCH-TV at a CRTC hearing that it was a "local, local, local, local" television station, Ali stresses that the local includes diverse "communities of interest." When local media is understood as community media, Ali details how it "can be rooted in place, religion, family, interests and tastes, or, more recently, in the virtual communities."
Ali emphasizes the "need to develop innovative ways to think about the local in the digital age, to think across spatial and social divides, and to think about inclusiveness rather than exclusivity."  Such a re-imagining of local news in Canada, for example, provides an opportunity for CTV's Northern Ontario news service to question what exactly is local about a news service that, as Ali points out, reports on an area larger than Texas.  Under traditional spatial definitions of local news, it is absurd to define CTV Northern Ontario's service as local journalism. However, based on Ali's insight, there exists an opportunity for Bell Media (CTV's parent company) to experiment with CTV Northern Ontario as a digital news media outlet that approaches local news coverage beyond simply geography and instead embraces local media as also comprising "minority groups, ethnic media, or language communities."
Media Localism's contribution to the field of media studies includes Ali's call for local media to be understood, justified, and regulated not as a public good but as a merit good, defined by Ali as "a good that should be provided regardless of consumption habits," presenting a concrete, practical recommendation that can escape other academic literature.  Ali's inclusion of an Essay on Method in the book's appendix also makes a nice addition for media scholars and local media enthusiasts alike as it shares the "how" and "why" of Ali's research design.
PhD. Humber College PhD. Humber College School of Media Studies & Information Technology