Here's why the Winnipeg Free Press hired a cannabis reporter
When Winnipeg Free Press editor Paul Samyn posted the hiring details for a cannabis reporter on Twitter in May, the stream of replies included joking barbs and a #StonerResumeHaiku.
Me write words good dude
Smoke blunts lots eat edibles every day
Give me job i'm bored#stonerresumehaiku

— Sandor Bosnick (@farbeyondsandor) May 26, 2017
Samyn said he received 30 to 40 applications, most of them serious and some from nationally recognized reporters.
Manitoba's paper of record, founded in 1872, hired its first cannabis reporter, Solomon Israel, this summer. To their knowledge, it's a first for any daily newspaper in Canada.
Israel will help create a marijuana-themed vertical, to be launched before the end of the year.
The vertical (as yet unnamed) will be free to read at first and later paywalled as part of the Free Press's micropayment system, which charges 27 cents per article.
Samyn said the paper's hiring decision stemmed from a desire to become a go-to destination for reliable cannabis coverage.
"It's no different than why I have reporters down at the Manitoba Legislature or Parliament Hill, covering the Jets or covering the Bombers," he said.
"We want to be able to write with authority. We want to be able to write with credibility on issues that our readers care about or… deserve to know more about."
Israel, 32, uprooted his life in Toronto — where he worked as a business reporter for CBC News online — to move to Winnipeg.
Since going on a reporting trip to Colorado in 2016, he wanted to focus exclusively on cannabis coverage. Asked what he still wants to learn about the drug, Israel quickly answers: "Everything."
"It's such a popular substance, but because it's been illegal, we know so relatively little about it. We're on the verge of a revolution in scientific and social science research," he said.
"There's a lot of myth busting to be done."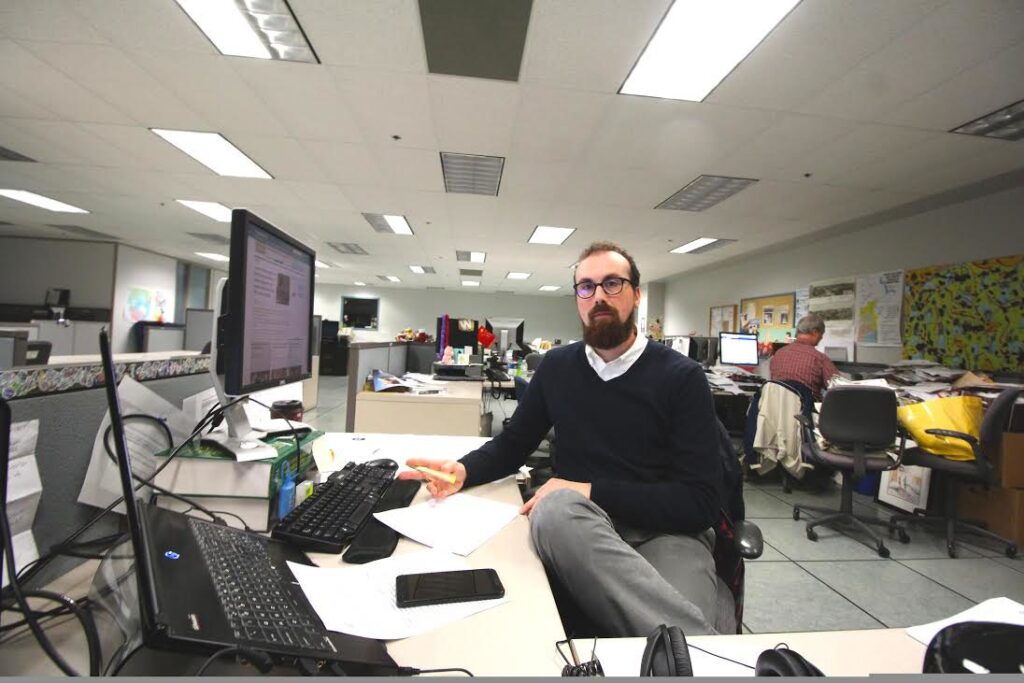 First on his agenda is covering the basics for readers who may not be well versed in cannabis. From the drug's chemistry to its types and strains, there's plenty to explain.
Reviewing marijuana may also be in the cards once legalization hits, said Samyn.
Beyond the Free Press, it's unclear how legacy media outlets in Canada plan to approach pot. (Editors from The Globe and Mail, the Toronto Star and Brunswick News did not return requests for comment on this story)
Yukon News editor Chris Windeyer said the paper's politics reporter and economics columnist have largely taken on cannabis stories so far. The paper isn't big enough to have a dedicated weed beat, he said.
In terms of other media outlets doing pot reporting well, Windeyer pointed south.
"The Denver Post's Cannabist is obviously the granddaddy of dedicated marijuana coverage and they do it pretty well. Within Canada, I think it has been fairly hit-and-miss, unless I'm forgetting about someone," Windeyer said by email.
Israel said he's seen "a lot of really, really lazy reporting about cannabis" in Canada.
"In newspapers and broadcast media, we hear the same voices over and over again," he said.
"I try really hard to talk to people who work in what's termed 'the blackmarket' in the cannabis industry right now, and I get fascinating stories from them."
Alternative weeklies, like The Georgia Straight in Vancouver, have published marijuana news since long before legalization loomed.
Sarah Hanlon also writes about weed as a full-time freelancer for 24 Hours in Toronto and Vancouver and Sun News. At the Financial Post, Geoff Zochodne covers cannabis and investing for the Postmedia chain. The National Post also created a chain-wide project last year, O Cannabis, that examined the future of marijuana in Canada post-legalization.
Amanda Siebert, the Straight's cannabis editor since July, covers the industry "as completely as one person can," she said in an email. 
The section includes a mix of stories on government policy, industry updates, lifestyle features, medicinal applications, cultivar reviews and more.
Siebert cited High Times magazine and Vancouver's Cannabis Life Network as some sources of inspiration. But for reporters unfamiliar with the beat, she suggested starting with a marijuana-related experience before delving into other research.
"Go to a dispensary. Meet people that use cannabis. Introduce yourself to people in the industry, even when you're not looking for a story," Siebert said.
"Reporters will quickly find that this beat is ripe with stories and individuals who are eager to share their experiences."
"As a (general assignment reporter), sometimes getting ahold of interviewees felt like herding cats," she added. "I have the opposite problem (not really a problem!) with cannabis."
Samyn also acknowledged the wealth of angles for the Free Press to investigate.
"What does it mean for your kids? What does it mean for driving? What does it mean for retail? We could go on and on," he said.
And as for Israel, whenever he introduces himself as a cannabis reporter to someone new, he said they have "a ton of questions."
He hopes to dig into the beat for years to come, while avoiding clichéd pot puns in writing.
"I think (the puns) are a symptom of a bigger problem, which is that a lot of media outlets, and especially older, legacy media outlets, tend to treat this subject as a joke," Israel said.
"I get it — it's a subculture, it's been a staple of comedy for a long time and it is funny. But I think if you're going to approach it as a journalist, it deserves being treated seriously."
This story was funded by the J-Source Patreon campaign.
Editor's note, Oct. 6, 2017, 3:49 p.m.: This post has been updated to include information about Postmedia's cannabis coverage.