Why the Chronicle Herald is locked in a labour dispute
Potential lockout and strike looms over the Chronicle Herald by the end of this week. By H.G. Watson, Associate Editor Editorial staff at the Chronicle Herald, in Halifax, may be locked out or on strike by Jan. 23 at 12:01 a.m. A long road of change and on-going union struggles has led to this point.…
Potential lockout and strike looms over the Chronicle Herald by the end of this week.

By H.G. Watson, Associate Editor
Editorial staff at the Chronicle Herald, in Halifax, may be locked out or on strike by Jan. 23 at 12:01 a.m. A long road of change and on-going union struggles has led to this point.
What's changed at the Chronicle Herald?
In 2012, Mark Lever became the CEO and president of Halifax Herald Ltd., according to the Globe and Mail. The company owns the Chronicle Herald, as well as a number of other small community papers in Nova Scotia, including the South Shore Breaker and the Cape Breton Star.
His wife, Sarah Dennis, was the president and CEO before him and was also heir to family business according to the King's Journalism Review. Dennis has since taken over the role of publisher.
Information about Lever prior to joining the Herald is scant. An article in the South Shore Breaker, written while he was already president and CEO of the company, said he had a background in corporate finance and had owned a manufacturing business. He was also, at some point, a tennis coach. According to a 2010 Chronicle Herald story, he was also once the president of Marjam Tennis Inc., which filed for bankruptcy in 2010. Creditors were owed in excess of $2.1 million.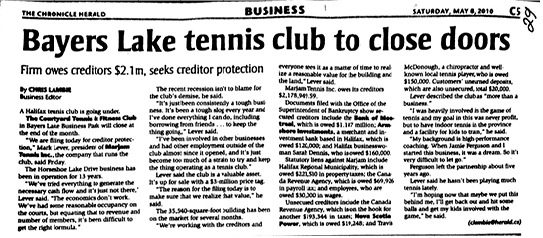 That fact about Lever's history was not included in several news stories written after he announced plans to focus on hyperlocal news. "I'm tired of hearing about newspapers dying," he told the Globe and Mail shortly after announcing the launch of a Cape Breton edition in 2014. J-Source's innovation editor, Robert Washburn, lauded the plan, writing that Lever, "gets it."
According to a 2014 Coast story, Halifax Herald Ltd. started producing native advertising for the Chronicle Herald using freelancers—a major point of contention for the Halifax Typographical Union, which represents newsroom staff. The first clause in their collective agreement gives them the exclusive jurisdiction to do the work of the newsroom—write stories, take photos, lay out pages and upload stories to the web. Frank Campbell, vice-president of the HTU, said management wants to change that clause so that anyone can do that work. "We have been told that this is take it or leave it, all or nothing, and that includes a stripping away of our jurisdiction," Campbell said.
Lever did not return any of J-Source's requests for comment on this story.
Is there a history of labour disputes?
In 2014, 15 workers took buy-outs—but only after there were discussions of laying off 20 employees instead. Two additional workers also were reportedly laid off. HTU president Ingrid Bulmer told the Coast at the time that workers were "disillusioned."
In 2015, 13 members of the press unit at the Chronicle Herald were locked out by management. At issue, according to a Chronicle Herald report, was providing "early retirement to eligible long-term workers employed at that time and in all future contracts." In March 2015, the two sides reached a deal, though Bulmer told the CBC the union was not happy with it.
In 2016, what is at issue for the news unit is an offer CWA-Canada—HTU's parent union—president Martin O'Hanlon described to J-Source as draconian. In addition to the proposed changes to the collective agreement, the union said management wants to cut wages, increase work hours and cut a third of newsroom positions.
"Every single thing they are proposing has been done at another newspaper somewhere. So nothing that they are suggesting is novel," Kelly Toughill, director of the School of Journalism at University of King's College, in Halifax, told J-Source of the Herald's demands. "What's novel is that they are taking all of the different cuts that have been proposed at other newspapers and putting them all together in a single package and asking for them all at once."
What's happened up until now?
Rumblings of the potential labour battle began in December 2015 when both parties went to the negotiating table—and then walked away, with divergent tales of who was willing to talk. Nancy Cook, vice-president of administration at Halifax Herald Ltd., reportedly said in a statement that they had to cut costs, according to the Canadian Press. Cook did not return J-Source's request for comment.
O'Hanlon said when the union went to counter-offer, they were told it was a take-it-or-leave-it deal. "There was nothing we could come back with except to say, 'OK, we accept,'"—which the union was not prepared to do.
On Jan. 11, Halifax Herald Ltd. filed a notice that would give it the option to lock out workers by midnight on Jan. 23. In protest, staffs removed their bylines on Jan. 12. The next day, they found out that management was removing bylines indefinitely, leading to a Twitter protest under the hashtag #iwrotethis, where journalists identified which stories they had written that day.
In the midst of this, the Halifax Media Guild broke the news that Chronicle Herald senior editors had begun looking for replacement workers. Toughill told J-Source that a couple of former students had called her looking for advice on what to do. She didn't advise them one way or another but explained the potential ramifications. "Working through a work stoppage, crossing a picket line—whether you are physically crossing it or virtually—can make it difficult to get work in the same field later."
It took another turn when a tweet from the HTU Twitter feed indicated the union might publish the names of the scab workers. An anonymous replacement worker spoke to Canadaland, saying he had no other option for work.
Campbell told J-Source it's impossible for people in the news industry to remain anonymous—you have to name yourself while reporting, and eventually that would get back to people.
"It's reprehensible," said O'Hanlon of the alleged replacement workers. "Especially for them to being going after recent journalism graduates, trying to take advantage of people's economic insecurity."
What happens next?
On Jan. 16, 59 of 60 members of HTU voted in favour of striking, according to a press release sent by the union. On Jan. 23, they will be in a legal strike position.
Lever published a statement in the Chronicle Herald on Saturday, ahead of the strike vote.
.@chronicleherald CEO and president writes an open letter. "These changes will involve layoffs." #cdnmedia #canlab pic.twitter.com/gJv7z2ocPQ

— Rachel Ward (@wardrachel) January 16, 2016
Last-ditch conciliation talks are scheduled for Jan. 20 and 21. Campbell said there are issues the union can entertain the idea of negotiating on—such as a potential wage freeze over a wage decrease—but the jurisdiction question isn't one of them.
But a work stoppage may be inevitable. "We've always thought this is what the company wants to have happen," said O'Hanlon. "They are asking for such drastic concessions. No reasonable journalist or union could accept them."
UPDATE  Jan. 20, 4:00 p.m.: According to a press release sent by the HTU, Halifax Herald management has rejected concessions made during last-ditch conciliation talks. The union is filing a notice to strike within 48 hours.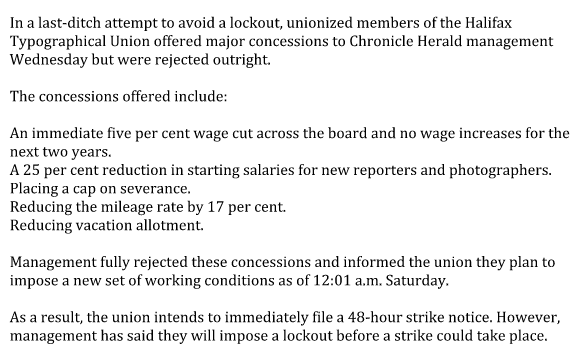 H.G. Watson was J-Source's managing editor from 2015 to 2018. She is a journalist based in Toronto. You can learn more about her at hgwatson.com.