Have an event you'd like to have appear on our events calendar? Please fill out the event form.
All events will be reviewed by an administrator before appearing on the calendar.

2022 Kesterton Lecture – Black on the Prairies: a Journalistic Voyage featuring Omayra Issa
September 27, 2022 @ 7:00 pm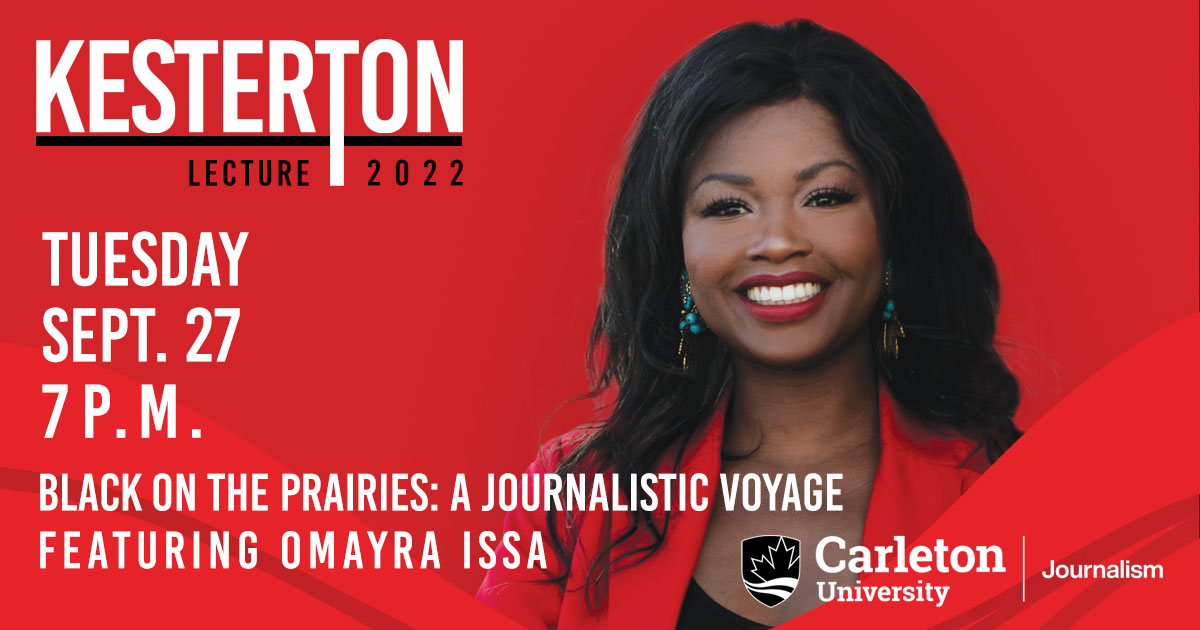 The 2022 Kesterton lecture will be delivered by CBC News Senior Reporter Omayra Issa, who will use a presentation called "Black on the Prairies: a Journalistic Voyage," to explore how to tell Black stories authentically, with precision and depth.
The in-person event will be held on Tuesday, Sept. 27, beginning at 7 p.m. in Richcraft Hall, home to Carleton's School of Journalism and Communication, host to the annual event held in honour of Wilfred Kesterton, the late journalism professor and scholar.
In her lecture, Issa will review CBC's Black on the Prairies, an expansive multimedia project that explores the richness, complexity, and multiplicity of Black Prairie life — past, present, and future, that she co-created and co-produced.
Black on the Prairies emerged as a project with the intent to make sure that regional experiences of Black people in Alberta, Saskatchewan, and Manitoba, were included in the global and national discourse on anti-Black racism and Black experiences.
The Black on the Prairies project, and Issa's recent work covering the Prairies for CBC, has won accolades. But it has also exposed her to a torrent of racism and online hate.
The evening will be moderated by Prof. Nana Aba Duncan, the Carty Chair in Journalism, Diversity and Inclusion Studies at Carleton's journalism school.
Issa plans to explore how Black on the Prairies can serve as a blueprint on how journalism can foster understanding of the communities it serves by constantly asking questions that complicate the dominant narrative and amplify lesser told stories. In this lecture, Issa makes a strong case for an inclusive journalism as a pillar of a healthy democracy in the midst of challenges.
Omayra Issa is an award-winning senior reporter for CBC News based in Saskatchewan. She is currently the 2022-2023 CBC/Radio-Canada Fellow, a part of the William Southam Journalism Fellowships at Massey College.
Born in Morocco, raised in Niger, and living in Saskatchewan for 20 years, Issa is fluent in five languages, and has a degree in Economics from the University of Alberta.
She began her career with Radio-Canada in 2014 in Saskatoon, reporting on major Saskatchewan stories for a national audience from the Humboldt Broncos bus crash tragedy to the shooting of Colten Boushie and the Gerald Stanley trial. She covers breaking news, investigates a wide range of topics, and produces original content on digital, tv, radio platforms.
Issa co-created and co-produced CBC's Black on the Prairies, a ground-breaking interactive project that brought to life stories detailing Black lives past, present and future in Saskatchewan, Manitoba, and Alberta. The project has won several accolades, including a national RTDNA and a Digital Publishing Award.
This event is free but those who wish to attend must register in advance as space is limited. A Zoom link for those who wish to take part virtually will be shared here closer to the date. To register please visit: bit.ly/Kesterton2022