Have an event you'd like to have appear on our events calendar? Please fill out the event form.
All events will be reviewed by an administrator before appearing on the calendar.

Massey Dialogues – Cultural Workers Organize: Journalists & Digital Media Workers Against Precarity
December 1, 2021 @ 4:00 pm

-

5:00 pm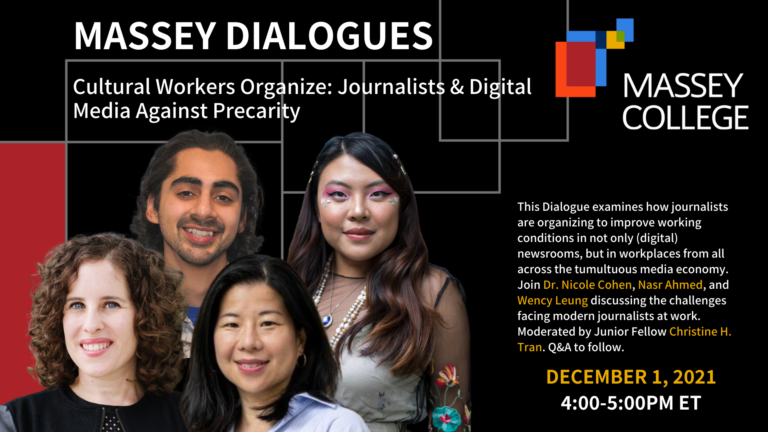 Join the Massey Dialogues on December 1 from 4:00-5:00pm ET From Buzzfeed to The New Yorker, newsrooms all over North America are unionizing. More than 60 journalistic staff rooms have unionized since 2015 and this number is only growing as digital media platforms (ostensibly) make it easier for organizers to broadcast their efforts with guilds, freelancers, and media allies from all over the world.
What is motivating the rise of media union drives? What is the role of freelance journalists in alternative labour organizing? How does this rise of digital-first organizing depart from the media labour movements of yesteryear?
We speak with Dr. Nicole Cohen, Nasr Ahmed, and Wency Leung on the challenges facing modern journalists at work. Moderated by Junior Fellow Christine H. Tran, this Dialogue examines how journalists are organizing to improve working conditions in not only (digital) newsrooms, but in workplaces from all across the tumultuous media economy.