Have an event you'd like to have appear on our events calendar? Please fill out the event form.
All events will be reviewed by an administrator before appearing on the calendar.

Reimagining Business Journalism
April 20, 2022 @ 12:00 pm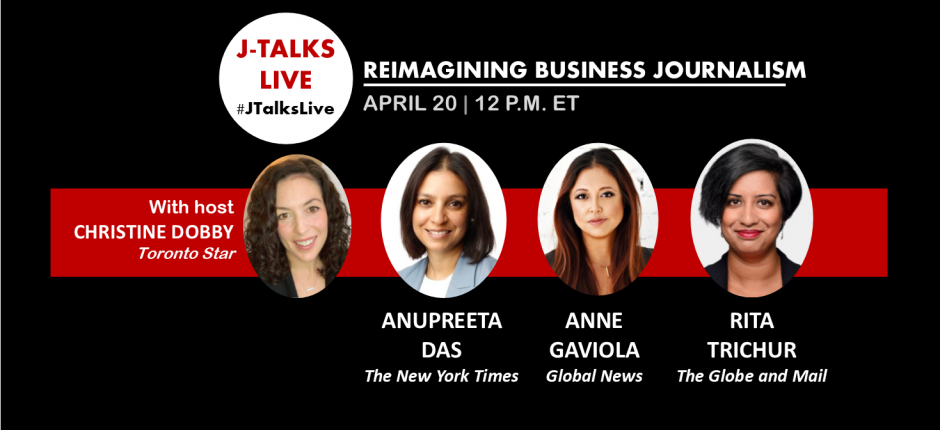 The COVID-19 pandemic disrupted labour markets globally. Housing affordability, precarious work, stagnant wages, social isolation, labour inequity and the drive to automation, are some of the major challenges facing the modern employee.
On April 20, Reimagining Business Journalism explores how newsrooms are rethinking their business coverage to reflect the post-COVID economy and ensure relevance among a new generation of younger, more diverse readers. The Canadian Journalism Foundation welcomes a panel of thought leaders in business journalism to share their insights on the future of industry coverage. Featured speakers are Anupreeta Das, finance editor at The New York Times, Anne Gaviola, senior digital broadcast journalist at Global News, and Rita Trichur, senior business writer and columnist, The Globe and Mail. Leading this discussion is Christine Dobby, business reporter, Toronto Star.
ABOUT THE SPEAKERS
Anupreeta Das is the finance editor of The New York Times, overseeing broad coverage of Wall Street, including banking, investing, markets, insurance and consumer finance. She was previously the deputy business editor of The Wall Street Journal. In that role, she helped supervise coverage of business and technology. At the Journal, she also covered mergers and acquisitions, Wall Street and politics, Warren Buffett's company Berkshire Hathaway, and the secretive ways in which billionaires invest their wealth. Preeta has won two breaking news awards from the Society for Advancing Business Editing and Writing. @PreetaTweets
Anne Gaviola is a senior digital broadcast journalist at Global News. The business beat has captivated Anne Gaviola for more than a decade. It is her mission to deliver news that helps people make the best decisions for themselves and their families by understanding the ever-changing world we live in. Her areas of interest include fintech, housing, the future of work as well as diversity, equity and inclusion. A graduate of Carleton University's Bachelor of Journalism program, she began her career as a student reporter with CTV in Ottawa. She has since worked at CBC, VICE, The Weather Network, ABS-CBN and most recently, BNN Bloomberg. @AnneGaviola
Rita Trichur is an award-winning journalist at The Globe and Mail. She is a Senior Business Writer and Columnist in the Report on Business. Her previous roles at The Globe and Mail include Senior Editor, Financial Services Editor, and Canadian business columnist for the Report on Business Magazine. Rita returned to Globe in July 2016 after spending about 2 ½ years as a reporter for The Wall Street Journal's Canada bureau. She primarily covered domestic banks and insurance companies from Toronto, but also wrote a variety of other stories about Canada for the U.S. newspaper. Prior to WSJ, Rita spent more than three years at the Globe, initially working as a general assignment reporter in the Report on Business before covering the telecom beat. Rita has also covered financial services and economics for the Toronto Star, and has held various roles at the Canadian Press and the Ottawa Sun. @RitaTrichur
ABOUT THE HOST
Christine Dobby has covered business for more than a decade, reporting for the Financial Post, The Globe and Mail and now the Toronto Star. She has written extensively about the telecom industry as well as legal and regulatory issues. Before journalism, she was briefly a family law lawyer. @christinedobby
EXCLUSIVE J-TALKS SERIES SPONSOR
IN-KIND SUPPORTERS