Have an event you'd like to have appear on our events calendar? Please fill out the event form.
All events will be reviewed by an administrator before appearing on the calendar.

Tracking the Gender Gap in Canadian Media – Taking a Big Data Approach
March 26, 2019 @ 4:00 pm

-

6:00 pm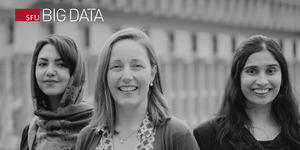 The Informed Opinions Gender Gap Tracker powered by SFU combines big data and computational linguistics to analyze how women's voices are represented in Canadian media. This tool has downloaded and analyzed thousands of news articles posted on main media outlets in Canada, including CBC, CTV, Global News, Huffington Post, the National Post, the Globe and Mail, and the Toronto Star. Then, for each article, this tool uses Named Entity Recognition techniques to find out who is mentioned and who is quoted in the text.
The goal for the research team using the Gender Gap Tracker is to help decision-makers in mainstream media see how well they're representing women's voices. Informed Opinions' goal is to motivate journalists to achieve gender parity in Canadian public discourse by 2025. Attend this upcoming SFU event and hear Maite Taboada speak about the potential of the Gender Gap Tracker on assessing a range of issues including whether women's voices in the media are restricted to certain topics, and whether their voices are portrayed in a way that conveys a systematically more positive or more negative sentiment compared to male voices.
About the Speaker
Maite Taboada is an SFU professor in the Department of Linguistics. Her research combines discourse analysis and computational linguistics, with an emphasis on discourse relations and sentiment analysis. Her current work focuses on the analysis of online comments, drawing insights from corpus linguistics, computational linguistics and big data. She is the director of the Discourse Processing Lab at SFU.