What if we imagined a future where media workers were owners?
It seems like Canadian media goes through a predictable cycle every few months. An outlet will abruptly shut down or lay off some journalists in a bid to downsize their operations; and colleagues and readers alike will tweet their condolences.
In an industry that is increasingly becoming defined by a small number of owners pursuing their bottom lines, the situation can seem hopeless. But what if we were to imagine a different future – one in which media workers held the power and not corporate interests?  
Perhaps we don't have to reach into the deep annals of our mind to picture such a scenario; a small television station in Victoria showed us all it could be done. It was early 2009 when the employees of CHEK, a Canwest owned local TV station based in Victoria, got word that the station was being put up for sale.  The station had been on the air at that point for 52 years and was beloved by members of the local community. Still, staff held out hope that the station would be eventually sold to a prospective buyer. This did not come to pass and in July of that year, Canwest announced it would close the station for good.
Not willing to give up, the employees of the station came up with a bold new plan: why not take ownership of the station themselves? So they all pitched in, got together with some investors and put in a bid. Rob Germain, CHEK's director of news, describes this time as "dramatic".  
"We were fighting for our very survival as a station," he said.
It took some convincing – Canwest initially rejected their bid. This sparked a campaign of public support from members of the community and local politicians.
"We got a lot of support from the community – we got a ton of support from our viewers, who wrote letters and made it clear to Canwest that they were interested in the station staying on and supporting the employees bid to keep the station going," Germain says.
It worked and within a few weeks, Canwest agreed to a sale of the station and CHEK was saved.
CHEK is operated under an employee stock ownership plan or ESOP. All employees buy a stake in the company and as a result are shareholders. They attend shareholder meetings, are kept informed about the company's financial standing and have representation on the board of directors. Nearly eight years after entering into this arrangement, things are working out pretty well. According to Germain, employees are happy and the relationship between management and the union is far better than what it was under previous ownership.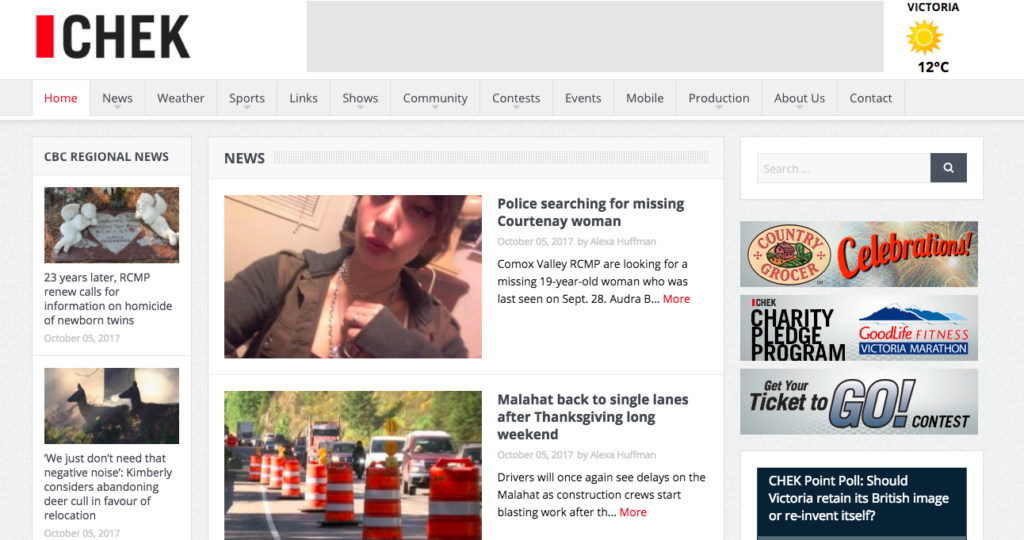 "Most of all the difference is decisions are made here locally and they are made with the local term best interest of the company and its employees." Germain said when speaking about the difference between employee and corporate ownership.
Going under employee ownership saved CHEK and the jobs of those who worked there, but it has had an additional benefit. Under corporate ownership, the station was focused on primetime television and while the station still has some primetime programming, since going independent, the focus has shifted to local news production.  The station has the trust of the community and reporter Tess van Straaten says that has a lot do with the fact that the public played an integral role in saving the station.
"I think our viewers feel like they have a stake in our success and people are more willing to talk to us. They know the story about how we saved the station and they're rooting for us. They trust us because we're local and we're locally owned and they turn to us, especially when something big happens, for coverage. We're not run by a mega-corporation based in another province that doesn't know the issues and is only looking at the bottom line," she said.
For those who are looking to run their own media outlets, Germain offers this advice.
"Determine if you have a need for a product – we knew there was demand for our local news because we had 50,000 people tuning in every night. But we needed to make sure we could sustain the cost of the station and make a go of it. I would suggest that you don't do it for money." he said. "A lot of people in journalism, depending on where they are, are waiting for the axe to fall. As advertising models change and there's disruption in the market, a lot of people are worried that they will get laid off. Taking over, running your own company, you're taking control of your own destiny. It is not going to be easy and you may fail. But at least you are in control of it and you're not just waiting for something to happen."
As media companies find themselves squeezed by the pressures of the industry, local news outlets, especially those serving smaller communities, are often the first to go.  Earlier this year, Guelph lost its daily newspaper, the Guelph Mercury and we've seen national papers like the National Post and Globe and Mail eliminate print distribution to parts of Atlantic Canada and the Prairies. Employee-owned media outlets could be one way to save local community based coverage; if it worked for CHEK, it could work for others.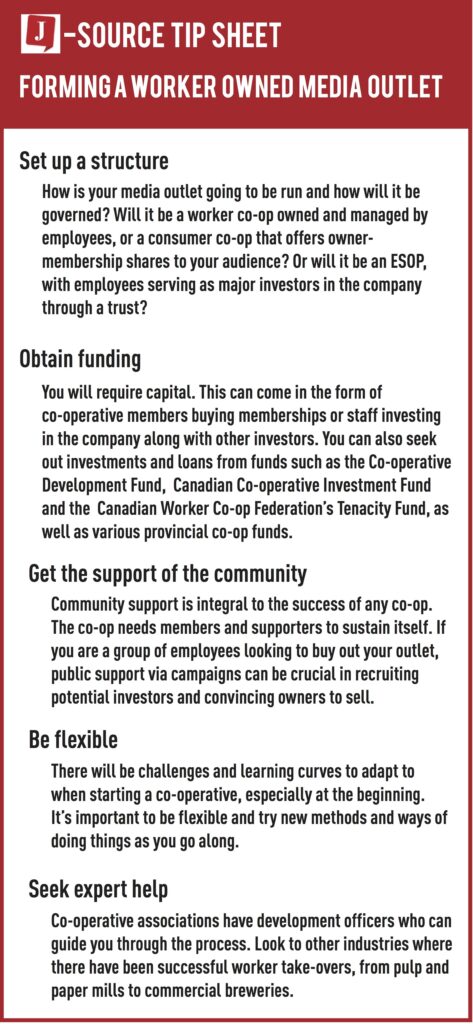 But ESOPs are not the only option available for local communities and the journalists interested in covering them. Media co-ops are owned by their members and these members can be anybody from readers, to writers, to editors. Compared to ordinary companies where shareholders typically get more say based on how much of the company they own, in a media co-op, every member gets a vote. The co-operative is therefore accountable only to its members and not to its bottom line. In 2006, activists and journalists came together, in response to a corporate controlled media industry, to form the Media Co-Op; which in turn formed local branches in Halifax, Toronto, Montreal and Vancouver.
David Gray-Donald, an editor with the Media Co-Op, says that a member-driven system "allows for coverage of what is actually important to people, as opposed to what will work well for advertisers. In practice, this means having an editorial position that is anti-corporate, decolonial, anti-capitalist, etc. is more feasible."
Dru Oja Jay, a founding member of the Media Co-Op explains that when the co-op was founded "we wanted to create a space where there would be more journalistic freedom than exists in the corporate media, where journalists could practice the full scope of what their profession involves, instead of constraining it according to the needs of corporate profits based on ad sales."
That said, financing remains a significant hurdle for co-ops.
"We are at a moment where there is very little funding going to media, especially community and grassroots media. Limited funding brings up all sorts of human resources issues and issues of governance. A co-op like the Media Co-op requires a fair bit of facilitation, and if there is not adequate staff or volunteer capacity to do this facilitation type work, problems will arise." says Gray-Donald.
Oja Jay says starting and running a media co-op presents a challenge in the sense that much of the process is new and often uncertain.
"There's no well-tested path for how to do things; inevitably you have to invent new ways of doing things. This is exciting – and in a moment of crisis and collapse in the media, crucial – and it gives you access to more of the human capacity of the people involved, but it also takes more time and resources to set up systems democratically and discuss things from the ground up." he says.
Other than the Media Co-op, there are other media outlets that operate as co-ops as well. Vancouver Co-operative Radio (CFRO), for example, has been broadcasting from Vancouver's Downtown Eastside for more than forty years. Members pay $60 a year and get to provide their input at annual general meetings and are eligible to sit on the Board of Directors. The station broadcasts 24 hours a day and is mostly dependent upon a team of volunteers.
In the United States, the Inter County Leader and Washburn Register, are community newspapers that serve the Burnett, Polk and Washburn counties in Wisconsin and are owned and operated by a co-operative, the Inter County Cooperative Publishing Association. The co-op's mission is to, among other things; "provide a forum for community issues" and "provide a workplace with good working conditions, wages and benefits." The paper was founded in the midst of the Great Depression, with farmers buying shares for $5 each. Faced with financial hardship during the recession, it was uncertain for how much longer the community paper would be able to survive. That being said, as of 2017, the papers continue to serve their communities.
In a time where the media landscape is increasingly precarious and uncertain, co-operatives and employee stock ownership plans may provide  alternatives that benefit both journalists and the communities they serve. CHEK reporter Tess Van Straaten certainly thinks so.
"We all feel like we have a stake in the station's success, especially those of us who fought to save CHEK eight years ago. As employee-owners, we're always coming up with ideas on how to make things better."
Abdullah Shihipar is the first-ever J-Source/CWA Canada Reporting Fellow. Shihipar has written about the media and social issues for numerous publications, including the Globe and Mail, Quartz, VICE, CANADALAND, Torontoist and NOW Magazine.