Inside the Globe and Mail print redesign
The future of newspapers might look a little like the Globe and Mail's redesign: Compact, more opinion pieces and driven by analytic data.
The new paper debuted on Dec. 1 across Canada — well, not quite. Globe distribution ended in all of the Atlantic provinces the same day, save a few copies of the weekend edition, which are being flown to Atlantic News in Halifax and sold to Globe fans for $9.50 a pop. (Print distribution of the Globe has not been consistent across Canada for some time.)
So, here's what the Globe and Mail distributed to some parts of Canada looks like: On weekdays, it's now two twenty page sections, the width has shrunk an inch, and there is more white space on the page. "What we are trying to do is focus our best content into the sections that are most read," Phillip Crawley, publisher and CEO of the Globe and Mail, told J-Source.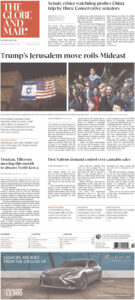 The overhauled A section includes news, arts and life, while the B section includes Report on Business, Globe Investor and sports. On Fridays, the paper includes a real estate section, and an automotive section in Toronto area papers. The weekend edition is the biggest at six sections, including a new opinion section and "Pursuits" which combines books, travel, fashion and food coverage.
The decision to drop the width of the paper to 10 inches was spurred by the positive reaction to the last Globe and Mail redesign in 2010. Crawley also says that the cost savings of using less paper are not insignificant. The Globe will save about $1 million a year as a result, trimming down the current newsprint budget of $8.2 million.
Crawley is keen to let people know the role analytics played in building the new print edition of the Globe. The Globe uses a proprietary analytics software called Sophi which Crawley says gives the newsroom a better understanding of what content gets read—and what doesn't. "Every story that we publish now effectively gets a score from Sophi that we can tell within 10 minutes whether something is taking off," he said. They can see whether a piece is attracting more social media attention, or if it is getting people to pay for a subscription. "That helps us deliver content more intelligently."
That data was used to determine how to redesign the print product. Crawley believes they've developed enough intelligence about reader habits since Sophi has been in place to apply it to the newspaper itself. "From Sophi data, consistently the most popular thing we do is opinion," he said. And so, opinion pieces are now in the A section on weekdays and opinion has its own 12 page section in the weekend edition.
Crawley says the Sophi data has shown readers prefer pieces contributed by staff writers over wire content, syndicated stories and freelance submissions. Whether Sophi ranked former Globe and Mail freelance columnists Tabatha Southey and Leah McLaren lower than Globe and Mail staff columnists, Crawley didn't say. He did say that freelancers were let go for a number of factors: "We make choices from time to time about how somebody's content is felt to be less relevant. Is it less read than it used to be? There are clear patterns when we look at the Sophi data."
He believes staff writers have the advantage. "If you've got a column like (Margaret) Wente's column which appears three times a week as a regular occurrence, or (Elizabeth) Renzetti who has a spot every Saturday, people have a clear expectation as to when they are going to read those columnists." Though one wonders how much of the analytics generated by Wente, a frequent arbiter of unpopular opinions and oft-accused plagiarist, are simply outrage shares.
However, the Globe has seen a good return on investment because of their reporting. A 10,000 word profile of Justin Trudeau published in 2015 resulted in over 100 people signing up for digital subscriptions. According to a Vividata survey released earlier this year, the Globe has the highest average issue audience of national newspapers — 2.6 million in digital and print on weekdays. Crawley says the Globe is currently profitable.
And people are still reading the print edition. "We still have a lot of customers who … want print. It's their preference to read both print and digital — a majority of our readers do that," said Crawley. On the weekend, they know that readers want to sit down with a print newspaper while they have their coffee. That's why it matters that they did a redesign.
"If we produce good enough content, we find that readers will pay," Crawley said. "And they will pay for print and digitally. So let's be clear: That's a key factor in this."
H.G. Watson was J-Source's managing editor from 2015 to 2018. She is a journalist based in Toronto. You can learn more about her at hgwatson.com.