What does it take to run a sustainable news startup?
As traditional newsrooms face cutbacks, buyouts, and layoffs, more and more small news startups are popping up across Canada, vying for the attention of niche audiences and valuable subscriber dollars.


Sixty news startups have launched in Canada in the last two decades, two-thirds of which were started after 2010 — with 2018 seeing the launch of ten individual media startups, the greatest number of launches of any single year in the last 20 — according to new research out of the University of British Columbia Graduate School of Journalism.


UBC professors Alfred Hermida and Mary-Lynn Young have been mapping the growth in the number of digital media startups across the country as part of a collaboration with several universities and newsrooms to uncover how experimental digital journalism forms can impact civic engagement and policy uptake.


In their research, which is ongoing, the pair have identified patterns and trends among startups, which have the power to determine an outlet's success in Canada today. It takes a lot to keep a startup running, much less a news startup in a media landscape plagued with precarity, run dry of resources. Startups emerging across the country are learning this firsthand.


J-Source talked to four, each occupying a different niche and utilizing a different business model, in various stages of development, about what it takes to run a sustainable media startup.




[slide-anything id="32119″]

Knowing your niche
One element that many of the news startups have in common is specialization; the majority are geared toward a targeted demographic of readers, and, because most operate on a small scale (run by, on average, one to three journalists, Hermida estimates), it will take a while for the news market to reach a point of oversaturation. 
At The Logic, a Toronto-based startup that launched in June 2018, that demographic is business readers. The organization, which now employs twelve full-time staff, produces journalism on the innovation economy.

The organization has been relatively successful in the year since it launched, garnering a base of subscribers and securing a strategic partnership with Postmedia. David Skok, founder, CEO, and editor-in-chief at The Logic, says the secret to the startup's success thus far has been an obsession with the interests of its niche audience.

"Everything we do is focused on what's in the reader's interest," Skok says. "What is in our subscribers interests? How do we keep them happy? How do we keep them from cancelling? What are the stories that they want us to tell?"

Skok notes that while The Logic avoids "shapeshifting" to appease its readers, his team works tirelessly to understand its audience and its interests; it sends out regular reader surveys, holds events and conference calls and has a subscriber Slack channel in which their readers can voice feedback.
For The Discourse, a Vancouver-based outlet founded in 2014, finding subsets of readership with which to deeply engage has revolutionized the team's reporting.

The organization first launched as a pop-up journalism site, one that opens temporarily to report during specific news periods, like local elections, and closes as the news cycle slows. It has since pivoted to a community-based structure. In August, 2018, The Discourse announced that it would be focusing specifically on three communities that are traditionally underserved by legacy media: Scarborough, the urban Indigenous population of greater Vancouver (dubbed "Urban Nation"), and the Cowichan Valley. The news site has since put the former two on hiatus, now focusing on the Cowichan Valley and on its new partnership with the Aboriginal Peoples Television Network.
Upon locating their journalism in three specific communities and focusing on local news in 2018, founder and CEO Erin Millar says she saw improvements in the way readers received the Discourse's work.

"We were seeing the highest (subscriber) rates when stories were deeply rooted in a specific place," Millar said. "We found that that the emotive piece of the puzzle was strongest when these were issues that were having an impact in your own community."

She also saw a change in the relationship her writers felt to their stories and their target audiences. She compares the experience of writing local news stories to that of working for student media; the feeling of proximity to readers is one that many journalists lose when they begin writing for national publications, Millar says, drawing on her own experiences.

"It's actually been really interesting to see the transformation of our journalists as well, because working in a local community you have to be accountable, it feels way more real … in terms of my relationship with audiences," she said.
Jeremy Klaszus, founder of Calgary-based pop-up local news site The Sprawl, has reached a similar conclusion; he views the site as serving Calgary readers who are deeply involved in the city's politics. Being a Sprawl reader (or a "Sprawler," as Klaszus and the site call them) comes with an element of identity and emotional involvement. His readers identify as part of a community of engaged citizens whose lives are deeply affected by city politics and The Sprawl's reporting.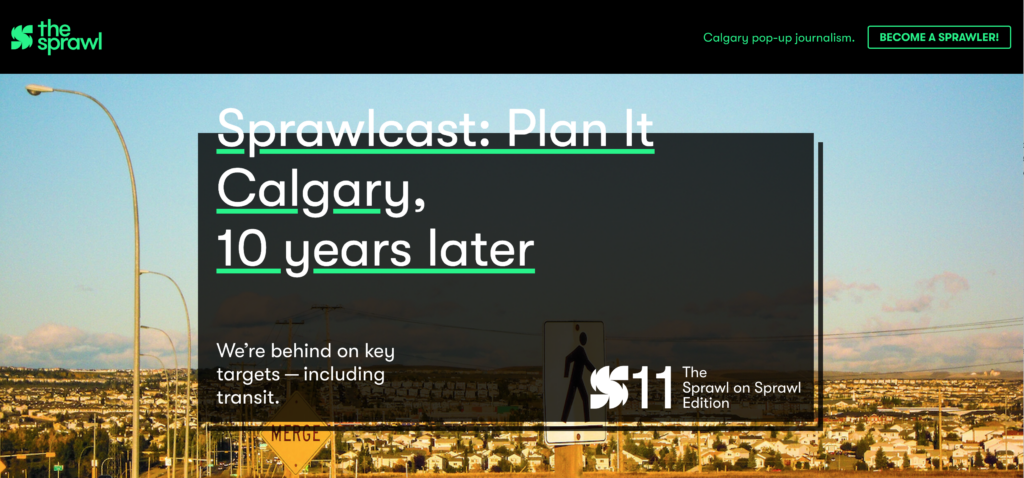 Subscribing to The Sprawl is "not just a transaction," Klaszus says. Rather, "it's like, 'Hey, do you want to join a community of people who care about the city, who appreciate thoughtful journalism, who want to engage with the issues that are important in our city?'"

"That's quite powerful," Klaszus says. "Because people are looking for connection, and looking for community."

And for Brampton investigative news startup The Pointer (which also recently launched coverage in Mississauga), catering to community-oriented readers in a rapidly growing city has required offering stories that no other outlet can.

The city of Brampton, which is home to roughly 700,000 people, had only one local print news outlet, Metroland's Brampton Guardian, which published three times per week at the time of The Pointer's launch in September 2018. Citizens in Brampton had little in the way of investigative journalism until The Pointer came around, meaning a group of community-oriented locals were left completely unserved by the local news market. The Pointer tapped into this need.

Founder and editor-in-chief San Grewal also notes that the timing of The Pointer's launch, in the midst of a controversial municipal race that led to the election of Mayor Patrick Brown, who had been recently ousted as Ontario's Progressive Conservative Party leader following allegations of sexual misconduct, played a large role in the outlet's high subscribership from the get-go. While Grewal says he views its success as a "fluke" in this regard, the fact remains that The Pointer offered politically-engaged citizens exclusive news stories that they couldn't get anywhere else.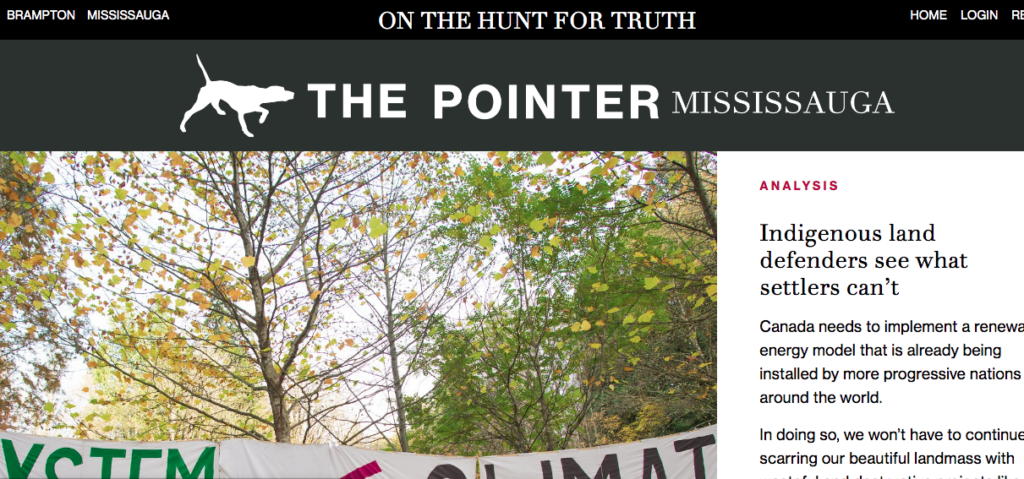 "We've had no marketing campaign, we've had no subscription campaign," Grewal says. "I haven't spent one cent on anything but content. And that was my strategy for a year. We needed to prove that we've got better content than anyone else."

Content is key, but Hermida says establishing a clearly identifiable brand is essential to building up a trustworthy reputation among readers.

"It's not just identifying what is happening in the media environment and what's missing," Hermida says. "But also, can you provide something that is of value to people that they're willing to pay for that they can't get somewhere else?"

Diversifying engagement strategies with audiences
While establishing a clear, unique offer in terms of content is the first step to building a news brand, many startups are forced to get creative in diversifying what else they give paying readers. Beyond providing high-quality journalism, many new media outlets offer secondary benefits to subscribing, ways to thank their readers that go beyond good stories.

The Sprawl, for example, holds events, like panel discussions and house parties, publishes a monthly podcast and has experimented with print publications as a way of giving back to its paying reader community, Klaszus says.

Holding community-oriented subscriber events provides a social component to readership that works for outlets on multiple levels. Not only do these events provide readers with the opportunity to network and socialize, but they also attach a sense of exclusivity and social capital to subscribership – if reading a news site comes with an invite to a party, reading suddenly feels cool and elite.

But subscriber events also incentivize further reading and engagement, should event attendees build lasting connections with one another. With the outlet's journalism tying them together, participants will be motivated to continue reading the news – should they ever want to return to an event, they'll automatically have something to talk about with their new friends.

And, uniting people in community over the news adds an emotive aspect to readership: Every time a reader opens up an article they'll be reminded of the people they've met that are either behind it or are also reading it – it's not just news for the sake of being informed anymore, it's news for being a part of something.

"Those kinds of events are very powerful," Klaszus says. "It's building that sense of community as opposed to just, here's another article."

Some outlets use events as a way to build community while simultaneously gauging their readers' passions and interests, which are then used to inform ongoing work. The Discourse, for example, holds regular community discussions in each of the local news areas in order to garner insights on the issues that matter to their readers. The discussions help guide their editorial strategy: After holding numerous discussions with urban Indigenous communities, for example, the Discourse's staff had to reassess their assumptions about the type of journalism that matters to Indigenous readers.

"I assumed,'Oh yeah, we want to dig into this racism in the police force,'" Millar says about writing for the Lower Mainland urban Indigenous community. "But the community doesn't want that, they already know that it's a problem and it's frustrating, because there's nothing they can do about it. They wanted us to dig into culture and how to better connect to them as a community."

Born out of that conversation was a series on stolen art, Millar explains, which found, among other things, that 75 per cent of Vancouver's souvenir shops sell some version of knock-off Indigenous art, without crediting or offering royalties to Indigenous artists or communities.
"The key for figuring out what communities really want is to honour their expertise," Millar says. "People know what information they need to help contribute to their communities. And we just need to be a bit more humble as journalists to not just assume."

Millar notes that holding discussion groups is "good from an impact perspective, but it's also just good business."

"The content that we're producing as a result of that is prevalidated in terms of performing well on the metrics that we know correspond to paying. So that's our thing: We're trying to always understand what people actually want, and sometimes that surprises us."

The Logic's subscriber Slack channel has proven an effective tool for both building community and guiding editorial practice, Skok says. Like being invited to an event, being welcomed into an exclusive Slack channel comes with a level of social capital that motivates continued subscribership.

But on a more direct level, it also serves as a way for the outlet to give their readers access to their journalists. If readers have feedback on an article, they have the option of sending Skok a message on Slack directly; this breaks down the barrier between writer and reader that alienates readers and make them feel "other" from the journalists they read, but it also serves as a way for Skok to encourage reader feedback that informs The Logic's writing strategies going forward.

"Any subscriber can [direct message] me on Slack and I will respond," Skok says. "So with that, the friction between our membership and us is not there. We're approachable."
Find the subscriber models that work for your audience

More than 40 per cent of Canadian news startups rely on readers for at least part of their funding, according to Hermida and Young's research. But asking readers to pay for journalism, something that the era of online advertising turned into a free good, is tough, especially as the average news consumer nears what Hermida calls "subscription fatigue."

"We have a Netflix subscription, your Spotify subscription, your Crave subscription, etc." Hermida says, noting that according to the 2019 Digital News Report by the Reuters Institute of Journalism at the University of Oxford, only 11 per cent of people across nine countries surveyed have paid for news at some point between 2013 and 2019.

"You're basically targeting the small percentage of people who really care about the news," Hermida says.

The risks associated with operating under a subscriber model mean startups have to find strategies that work best for their niche. The Logic, The Discourse, The Sprawl and The Pointer all collect money from readers, yet each one employs a slightly different model of subscriber payment geared toward its goals and target audience.

The Logic, for example, has a hard paywall on all of its content — though it's worth noting that their new strategic partnership gives Postmedia the right to distribute a fraction of its content sans paywall. A firm paywall tends to work for business publications like The Logic, along with the Financial Times, the Globe and Mail's Report on Business and others. For starters, Hermida says, the motivation behind subscribing to business outlets tends to come from a place of necessity: Audiences will subscribe knowing the knowledge they get from reading could affect their career choices or investment outcomes.

Additionally, the model tends to be attractive to businesses as well as consumers. Companies are likely to purchase memberships for all of their team members as a way to keep their employees up to date on current industry affairs.

"That kind of specialist need-to-know information that has a market value, has a commercial value. And the challenge is local news doesn't have a current value. People never really paid for news," Hermida says, because advertisers did.

Building a base of paying subscribers has helped The Logic attract other streams of revenue, Skok says, including its strategic partnership with Postmedia. (It's worth noting that many outlets have gone in a different direction, like the Discourse, which launched with the support of grants and investments before asking readers to pay.)

"Our belief is that if you focus on your paying subscribers and getting more of them and growing that base, other revenue streams will come out of that," Skok says. "The best advocates and champions for your work are your subscribers. It's a lot cheaper to have subscribers who work through word-of-mouth, organically talk about your product, than it is to pay for that kind of advertising."

For local news outlets like The Discourse and The Sprawl, a hard paywall model would not be as effective, both Millar and Hermida say. Both outlets operate under voluntary pay models: The Discourse uses a "pay what you can" model in which readers can opt in at an amount of their choosing (which can be nothing), while The Sprawl runs a Patreon page that provides subscribers a few perks, such as Sprawl-themed swag, but all of their content remains publicly available to non-patrons.

"The decision to voluntary pay is different than the decision to subscribe to something. To subscribe to something, often the trigger is 'I need this information to do my job better or I need this information to know what's happening in my community.' It's a little bit more utility, whereas the trigger for a voluntary pay model is more emotive: 'I'm joining this because I believe in this,'" Millar says.

A hard paywall also prevents outlets with inherently small readership (like that of a young local news operation) from reaching larger audiences and becoming part of the public debate. According to the 2019 Reuters Digital Report, in the United States, richer groups of news readers are three times more likely to pay for news than low-income groups, while those with a university degree are twice as likely to pay.

In short, material that's behind a firm paywall will not reach those who cannot afford to pay for it, which is counter to the goal many outlets have of building up a community-wide readership.

"If you are on a small scale, I think it's way harder to have a paywall and then still have your journalism be part of the broader civic conversation," Klaszus says.

He views The Sprawl's subscriber model as a more "positive pitch to readers," rather than "punitive," like a forced paywall would be. "Not lecturing people and not scolding them, 'you should pay for this,' but 'Hey we do this, it costs money, we pay our writers decently, and in order to keep doing this, we want you on board, so we'd love to have you join us.'"

Staying nimble in the face of adversity
Launching a startup has come with its share of challenges for many of these organizations. Unsurprisingly, launching a new company with limited capital in a turbulent media landscape has proven difficult for most of these startups.

For the Discourse, the real trouble came when its initial investments ran out.

"Because we've been around for a little bit longer, we've had to get beyond that startup funding phase," Millar said. The outlet launched with initial capital from nonprofit partners, commissioned journalistic content, workshops and reports produced for nonprofits and foundations. This work was supplemented by income from consulting, renting office space to freelancers and a short stint in sponsored content. Crucially, in these first two years, only two per cent of the outlet's funding came from its audience.Today, reader support is up to 24 per cent.

It was in 2016 that the Discourse began to double down on its crowdfunding efforts, with the goal of creating a sustainable model of public interest local news, easily replicable for other publications struggling in a competitive media market. In October of 2017, the company launched an equity crowdfunding campaign in which it sold shares of the company to individual supporters in an effort to raise capital — which they did: $350,000 to be exact. That's nothing to scoff at, but it wasn't the $500,000 the company had hoped for from that campaign, and it left them well behind the $1-million it needed that year to grow.

"We just had to kind of own that story," Millar says, looking back two years later. So she published an op-ed about it, an effort to live up to the publication's values of vulnerability and radical transparency. After enduring a variety of growing pains, they had to lay off staff. When she approached her team with the issue, the staff banded together to come up with a solution: many employees took temporary pay cuts and several partners worked for the company for free in exchange for equity.

"Everybody just kind of came together," she says. "We just sort of figured out how to widen the pie to get through this period."

And it strengthened the bonds within her crew. "Our team is still so tight," she says. "It just cut out a lot of the noise and the bullshit. We were just able to really focus and not fight over stupid shit."

The Discourse's trajectory in the nearly two years since has been similarly tumultuous, but Millar remains committed to experimenting in order to keep the brand alive. The company launched another crowdfunding campaign in May of 2019 after the funding from its 2017 equity campaign was spent; by July, it announced that it had again fallen short of the goal, garnering around 500 monthly supporters, half of the 1,000 hoped for. They slowed down publishing, turned the focus away from Urban Nation and Scarborough to focus on coverage in Cowichan Valley (the most deeply engaged audience hub), working with Facebook's news accelerator to improve its reporting there. The site began seeking out other sources of funding from investors and grants. And in October 2019, the Discourse launched the Independent News Challenge, a nine-week program to help other journalism entrepreneurs grow their ventures.

As Millar continues to seek out a formula for sustainable local news, perhaps the most common element of the Discourse's trajectory is the precarity it's faced. Remaining nimble in the face of new data and lean in the face of monetary troubles has been key to the Discourse's survival.

Hermida (whose wife once worked at the Discourse) has watched it closely from his office at UBC, just 15 kilometres away from the Discourse's downtown Vancouver workspace. He says their path is one of the strongest examples of the challenges that come with launching a sustainable media startup today.

"They've tried various attempts at crowdfunding, and they've had some success, but not as much success as they would have hoped for, and had to readjust the scale of their coverage of their priorities," Hermida says. "There's the challenge in finding something that's long term, and sustainable, unless what you're doing is offering specialist information that people are willing to pay for."

Millar also admits, in retrospect, that the company's numerous identity shifts have made it difficult to build a sustainable niche audience; unlike outlets like The Logic or The Pointer, The Discourse launched without a target topic or readership in mind, and that's made it difficult to lock down a niche of paying readers.

Cultivating a niche is something The Sprawl has had an easier time with, having launched specifically to serve Calgary's deeply-invested news readers. But Klaszus's path hasn't been all smooth sailing. He notes that it's been undoubtedly difficult to sustain growth through slow periods inherent to the outlet's pop-up news model. However, he notes that he typically doesn't lose subscribers during dark periods — rather, subscriber rates flatline during these times and increase during busy times.

"By nature of the pop-up model, when we're covering something and it's lots of content, of course the subscriber models go up," he says. "When we're in quiet mode, not much is happening (and) it kind of holds steady. So it fluctuates."

He also faced logistical hiccups sustaining paying members in moving the site between platforms. Klaszus initially built his community of Sprawlers on Patreon, which processes payments in U.S. dollars. After hearing from numerous members who preferred to pay in Canadian dollars — which would end up being a higher number for the same monetary value, a hurdle for many to get past — he switched to a different platform. He feared losing subscribers in the transition, but says he's sustained many on both.

Seemingly random logistical issues, like those faced by Klaszus and Millar, are par for the course in starting a business — and leaders should prepare to pivot when unprecedented challenges emerge.

Fluctuations in the news cycle have also dictated The Sprawl's growth patterns. The Sprawl's launch happened to coincide with Calgary's 2017 municipal election, at a time when many readers naturally sought news updates and analysis pieces to inform their votes. To this day, he attributes much of the outlet's initial success to good timing.

Grewal finds the same to be true for The Pointer, which launched right before a controversial municipal election in Brampton and as a result, he says, hit its one-year subscriber targets within two weeks. Despite being a rapidly-growing, news-heavy city located in the Greater Toronto Area, Grewal says Brampton often falls off the radar of most Toronto-based legacy outlets. And despite offering something new to readers with in-depth analysis pieces, he's found difficulty with having his work taken seriously by larger outlets that often use it to inform their reporting.

"Most mainstream media (have) gone out of their way to make sure that startups and outlets like The Pointer never get any credit," he laments.

He notes that startups, which lack the years-long legacy that larger outlets have built, are forced to go the extra mile in convincing the public of their worth. "We needed to prove that we've got better content than anyone else."

Even The Logic, which has built up a relatively solid subscriber base, published exclusives, and grown its team all in a short period of time, has struggled to establish a strong brand name that can compete with older outlets.

"When you look at the Globe and Mail, the New York Times, Boston Globe, Wall Street Journal, Financial Times, these publications have 150 to 200 years of history and it's taken them that long to build the trust and loyalty that ultimately results in their success," Skok says. "We're starting from scratch … we're in year one, and if we want this to build into a long term, really valuable trustworthy brand, we need a lot more runway to get to where we want to be."
Slowing down and rethinking how we produce news
While each startup uses different strategies toward reader payment and engagement, there's one thing all four have in common: A desire to rethink the way the Canadian industry does journalism.

"Slow journalism" is one of the Discourse's 10 Principles guiding its day-to-day operations.

"We're dedicated to sharing nuanced, untold stories that reveal hidden truths," the outlet's statement of principles reads. "We dig up and (analyze) data to understand the patterns that impact our lives every day. Our editorial agenda isn't set by breaking news or press releases. Instead, we dive deep into important issues that don't fit neatly into the daily news cycle. We focus on systems — not symptoms — and stick with the story for the long haul."

To Skok, giving journalists the time and space to write their stories to the best of their abilities, free from the constraints of meeting nightly deadlines, has revolutionized the way The Logic team works.

"When you look at the media landscape today, with the overall dependence on scale and page views, reporters … haven't had the opportunity to take a break and to find stories and really dive into stories in the way they should. This is ultimately, at the end of the day, a creative craft, and creators need creative freedom," Skok says.

The biggest lesson Skok has learned in launching The Logic, he says, is patience: "Patient growth, patient investment … being patient and having the discipline to not spend too much too quickly, to not publish too quickly, and being patient with your investors in explaining the long- term vision."

The same goes for The Pointer: Grewal says focusing on in-depth stories that serve the Brampton community has helped his team escape the daily news cycle dominated by stories about Donald Trump. Rather, the outlet's editorial strategy gives reporters room to focus on approaching local news creatively, making topics interesting to audiences that might otherwise disengage.

"We're all preoccupied," he says. "(The mainstream media) has abandoned local news and local journalism. We'd rather write about Trump every five seconds."

But The Pointer is different.

"It's our job to figure out well, OK, how do we make local news interesting? How do we not report on like, 'Oh, there's a new sidewalk,'" Grewal says. "If that's your idea of local news, local news is going to die."

The Sprawl's pop-up journalism model takes a slightly different approach to slow news: The outlet only publishes when there's a story to be told, and regularly shuts down in between. Klaszus remains transparent with his readership every time the site shuts down, posting a message on its homepage and social media explaining the reasoning behind taking a break.

Klaszus says producing news in this way has helped him keep the outlet's operation at a manageable scale, which has been essential to avoiding the burnout that could come with trying to grow too quickly.

"That's been kind of a guiding principle, I guess, that it's OK to be small, it's OK to take one area of focus and leave the rest," Klaszus says.

Slowing down has also helped Millar give her team at the Discourse the room they need to innovate. Rather than giving in to pressures to publish the same way it's historically been done, the slow journalism model gives her team time to brainstorm, discuss and meaningfully deliberate story ideas.

"I think the number 1 reason that this industry hasn't been able to innovate and make the transition it needs to is because of pretty poisonous newsroom cultures where it's not safe to innovate," Millar says. "It's burdensome, people are scared."

"If we don't create cultures where we can collaborate and trust each other and share and it's not competitive and people aren't scared and there's not abusive behaviour happening, then we're never going to get out of this."

Audrey Carleton is a freelance journalist based in Toronto. She recently completed the Globe and Mail's summer staff program, after getting her start at The McGill Tribune. She enjoys going for long runs and tending to her house plants.