Working Media podcast: Karen K. Ho
In our premiere episode, we had the privilege of speaking with Karen K. Ho. She's currently the Delacorte fellow at the Columbia Journalism Review, and has worked for a variety of outlets including The Globe and Mail and the Business News network. But she's perhaps best known for her riveting investigative feature "Jennifer Pan's Revenge," which appeared in Toronto Life in 2015. We had a fascinating, wide-ranging conversation – so much so that we're offering an extended episode to kick off our series. Hope you enjoy!
Working Media is a monthly career development podcast series that invites journalists and media professionals to offer their hard earned insight and guidance to the next generation of reporters. This podcast is presented by J-Source, the English language portal of the Canadian Journalism Project. The host of Season One is Adrian Ma, a professor at the Ryerson University School of Journalism. The technical producer is Nicole Di Donato and the executive producer is H.G. Watson.
Podcast (podcast-working-media): Play in new window | Download
Subscribe: RSS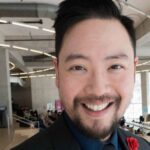 Adrian Ma is an award-winning journalist and an assistant professor at the Ryerson School of Journalism in Toronto. He has spent most of his journalism career as a reporter and digital producer and specializes in teaching multimedia storytelling and personal branding.