Poynter's Minority Writers' Workshop reminded me that my voice and perspective matter
This story was funded by the J-Source Patreon campaign.
I remember the first time I took part in a story meeting at a mainstream newsroom.
I shook hands and introduced myself to everyone in the room. But as I did that, I couldn't help but notice that something stood out.
All of the producers were white. And I, the newbie, was the only person of colour.  
Later in my career, I realized that this would be the trend for most Canadian newsrooms. So naturally, it wasn't surprising to find out that the majority of columnists in the country are white too.

Earlier this year, J-Source published a survey of 125 columnists in the country. The result was that most of them are white, male, straight and middle-aged. Visible minorities accounted for 11 per cent of respondents, and the survey showed that there were more people of colour represented at national newspapers surveyed than regional ones. However, that number still fell short from the 2011 Canadian census tally that states 19 per cent of Canadians are visible minorities.  
As a Chinese-Canadian woman in my 20s, these statistics were discouraging but unsurprising. I found myself asking, "What would it take for mainstream media in this country to take someone like me seriously?"

That's why I jumped at the chance at applying for The Power of Diverse Voices: The Poynter Minority Writers Workshop. While I usually work as a chase producer on a current affairs program, I saw this opportunity as a way to help me learn how to better report on race and ethnicity.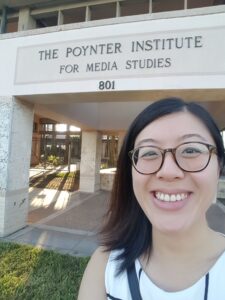 The seminar, which has been running for over two decades, aims to train and encourage more journalists of colour to write opinion pieces. This year, over 100 journalists applied to take part. Of the 16 participants chosen, I was the only Canadian.

Over the course of four days, I attended workshops that taught participants how to generate story ideas, develop and hone arguments, build their brand and voice online, and present opinion pieces through different mediums such as audio.
Tom Huang, the assistant managing editor for features and community engagement at the Dallas Morning News, led the workshop. He said the purpose of the seminar was to help both new career and veteran journalists develop their voices.
"Diversity has always been a top value for me in terms of recruiting journalists in the newsroom and thinking about how we cover communities," he said.  
"I knew it would be important to bring the group together to share one another's experiences, bond and realize that you have some important things in common."
Aisha Sultan, a nationally syndicated columnist based at the St. Louis-Dispatch, was one of the instructors at the course. She too has noticed that, like in Canada, newsrooms in the U.S. lack diversity.
"The complexity of issues facing America cannot be addressed by one narrative," she said.
"We do such a disservice to our readers by not making more of an effort to consciously include other people's viewpoints and stories and backgrounds, and how much that enriches our country and our understanding of where we live."
Each day, participants would get some time to write their own opinion pieces. And after each writing session, we'd sit in separate groups and listen to one another's drafts.
For Russell Contreras, an Associated Press reporter based out of Albuquerque, New Mexico, the workshop helped him dig deeper into his feelings. He said this is something he rarely gets to do at his day job.
"What I like is as the writing workshop began and started taking form, we were dealing with these internal conflicts that we were working out on the page. What was amazing to me was that you saw them grow and develop."
Esmy Jimenez, a reporter with Northwest Public Radio, said working with others during the course helped improve her writing, and re-established the way she thought about journalism.
"I've never been in a newsroom this diverse, with so many different age groups, so many different ethnicities and experiences," she said.
"For me, I was just like, 'This is so rich. This is the kind of writing I want to do. And these are the kind of people that I want to work with.'"
For me, the experience felt like a safe space, where I could openly discuss my opinions and receive constructive feedback on my story ideas. And over the course of four days, I noticed that my colleagues and I grew more confident in our writing.
People wrote essays about childhood experiences, relationships and personal trauma. There were also pieces that reflected on topical issues in the media right now, such as racial tensions and sexual assault. As for me, I wrote an op-ed about Quebec's recent face-covering law, and how that relates to Canada's darker history with different immigrant groups. The piece has not been published yet, but after encouragement and some notes from my colleagues, I hope to pitch it soon to different publications in Canada and possibly in the U.S.
As I listened to everyone's pieces, I did not expect to feel so emotionally invested in their stories. It made me realize that despite all of our different backgrounds, our lived experiences are connected by universal themes.
Being at Poynter's Minority Writers' workshop reminded me that my perspective and my voice matters in this industry. And what's more, I finally saw the possibilities of what a newsroom could look like with more visible minorities. Even if I don't pursue opinion writing in the future, the course made me realize that as a person of colour, it is my responsibility to put more diverse voices into stories, and push others to do the same.